ASK PAYGE
'Ask Payge' is an Outdoor / Wilderness advice column in Self Reliance Illustrated magazine:   http://www.selfrelianceillustrated.com/
Do you have a question? Think there has to be a better way? Always wanted to know the secret? Ask Payge!
Send questions to payge@turnthepayge.com
________________________________________________________________________________________________________________
Q: My wife is going backpacking with me for the first time. I want to get her a sleeping bag which will keep her warm at night and light-weight to carry in her pack. What do you recommend? – John, TN
A:  We hate being cold!! For a variety of reasons, women always seem to be colder in ambient temperature then men.
I recommend getting her a sleeping bag rated at least -10F lower than the coldest possible night expected. Throw in a cozy silk sleep liner for her and you'll add virtually no weight and 10F.
If you want light, and keep it dry, a down versus synthetic sleeping bag is the way to go. The warmth, weight and compression advantages will cost you a little more, but she will be happy camper!
Q: When you go on a long distance backpacking trip, how many miles a day do you hike? – Peter, PA
A: That's a great question and depends on a number of variables including; altitude, elevation gains/losses, pack weight, terrain, weather etc.
In general, I like to backpack 15-20 miles a day. Including short breaks, I average 2.25 miles an hour. If I am going up in elevation, my pace can drop to 1 mile or less per hour.
Q: What is a WAG bag? – Sara, MS
A:  Anyone who has ever used a WAG bag is laughing right now. Not at you, but at their first experience! It's like picking up after your dog
WAG stands for 'Waste Alleviation and Gelling' bag and is used to coincide with the "Leave No Trace" rules when climbing popular mountains such as Mt. Whitney in CA and Mt. Rainier in WA.
You squat over this light weight, plastic bag. A urine-activated powder to encapsulate and deodorize solid waste is already inside. Once you're done your 'business,' close the bag up and place it inside the zip-lock style bag provided. The waste is now contained and you are ready to pack it down the mountain.
Q: How do you shower and take care of yourself when out in the wilderness? – Melissa, TX
A:  Before bunking down for the night in my tent, I like to clean up as best as possible. If there is water nearby, I will take my bandana and scrub away the dirt.
To minimize impact on the environment, I use only bio-degradable soap and then only 100 feet away from whatever stream, lake or river I happen to be near. I rinse off using a liter bottle.
If water is scarce, and I have wet-wipes available, I will use a couple sparingly.
Hygiene is important in the wilderness! Most of us get blisters, scrapes or cuts and you need to keep them clean.
Q: What do you eat out on the trail or mountain and how long do you go without re-supply? – John, MO
A:  If you are going for ultra-light weight, Gatorade powder packs, granola and protein bars are the way to go!
However, if you are like me, you will sacrifice carrying more weight for good food. In addition to my gear, I will carry up to 10 days worth of food. Figure on 1.5 – 2 lbs of food per person per day.
I like a hot meal at the end of the day. Mountain House has some amazing freeze dried dinners including spaghetti & meatballs, lasagna and beef stew.
Some of my other favorite food items include:
Pop Tarts
Natural Fruit Roll-Ups
Trail Mix with M&Ms
Granola Bars
Gatorade Powder Packs
Whole Wheat Tortilla Shells
PB&J (its heavy, but I love it!)
Remember, bring and eat whatever you want as long as you are comfortable carrying it!
Q: It is hard to find free rural camping these days.  Any idea on where I can look? – Ron, WI
A:  Boondocking, 'dispersed camping', call it what you will, free camping is hard to find if you don't know where to look.  In the U.S., we have 155 National Forests spread out over 190 million acres (the size of TX) with 87% west of the Mississippi.   Joe Walsh, spokesman for the US Forest Service, told me "while there are free backcountry places to camp in our national forests, its best to contact the specific forest you are interested in as policies, permits and passes vary".  He also recommends www.recreation.gov to help in your search. 
I found a couple additional websites to be helpful including, www.boondocking.org and www.freecampgrounds.com.  There are two books, 'Don Wright's Guide to Free Campgrounds' (east & west editions) you may want to peruse as well. As always, minimize your environmental impact and follow Leave No Trace guidelines.
Q:  What kind of stove do you use when backpacking? – Donna, GA
A: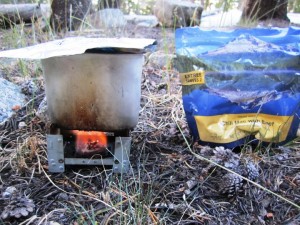 Outside of building a campfire to roast meat from an animal kill, I just want to boil water to mix in packaged freeze dried meals, soup or oatmeal.   I love the 3.25 ounce, size of a pack of cards, Esbit® Stove & Fuel Cells.  Named for the 1936 German inventor of the hexamine fuel tablets, Esbit stands for, 'Erich Schumms Brennstoff in Tablettenform' ( Erich Schumm's Fuel in Tablets). The non-toxic, fuel does not liquefy or give off smoke.  A single fuel cell will boil 2 cups of water, burn up to 15 minutes (depending on altitude & weather conditions) and temperatures can reach up to 1,400 °F (760 °C).  
Along with the Esbit® Stove & Fuel Cells, I use a standard, light-weight, military issue canteen cup/pot and simple tin foil for a lid and/or wind breaker.
Q:  What is a Shewee and does it hurt? – Stephanie, AZ
A:  Men have it SO much easier in the outdoors when nature calls!  A Shewee is a portable urinating device for women and no, it does not hurt.  It is a molded plastic funnel, designed to use while standing up or sitting down.  All you have to do is unzip, put the wide opening of the funnel in place against your body and you're in business.  A favorite among mountaineers, cold weather campers and backpackers it allows you to keep on your backpack and clothes.  Get the extension tube accessory or use a bottle and you won't have to leave your tent in the middle of a cold, rainy night anymore.  Be sure to practice with it at home first and you'll be good to go in the outdoors!
Q:  What is the one item you never leave home without and why? – Joseph, IL
A: I literally never leave home without a Nalgene wide-mouth liter bottle. It is easy to clean and durable.  Backpacking, grocery shopping, hunting, exercising etc., I am obsessed with drinking water and staying hydrated.  I do not believe in buying bottled water. It is a waste to the environment, and of money, when tap or running water will do and is easily accessible. You can pack snow and melt it by using your body heat when keeping the bottle tucked in your sleeping bag over night.  Out in the wilderness or traveling abroad, I'll bring purification pills or a SteriPEN, before I buy bottled water.  Add a packet of powdered Gatorade or Powerade for flavor and electrolytes.