Anchorage, AK (February, 2011) – Alaska HDTV announced today that adventure athlete and writer Payge McMahon will join Scott Slone as co-host of "Alaska with Scott Slone" Alaska HDTV's popular online adventure travel show. In her new roll co-hosting with Scott Slone, she will be providing coverage of the 2011 Iditarod Sled Dog Race.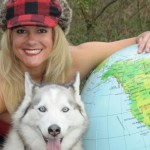 Payge McMahon is a known adventure athlete, world traveler, writer, and popular web personality with sponsors and fans worldwide. Payge has climbed the highest mountains in Africa, Japan and the continental United States, cycled through Thailand, Cambodia and Vietnam, backpacked across Northern Spain, the Inca Trail to Machu Picchu and California's 221 mile John Muir Trail. She has trekked through the deserts of Egypt and Jordan, the Amazon Rainforest and the list goes on!
The Iditarod is adventure at it's best, which is why it's been Dubbed "The Last Great Race On Earth." The famed Iditarod trail pits men, women, and dogs against Alaska's bitter arctic cold, raging blizzards, and unforgiving mountain terrain as they wind their way north along frozen rivers and historic trails.
The Iditarod was inspired after a deadly diphtheria brake out in Nome, Alaska back in 1925. Short on medical supplies, this initiated an almost impossible relay of life-saving serum from Anchorage back to Nome. The monumental and historic event was a success and the remotely located village along the Bering Sea was saved!
Today this relay is celebrated by a world wide audience as these teams make the same journey north of some 1049 miles to Nome, Alaska.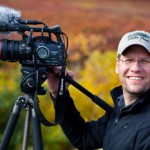 Scott: "As an Alaska adventure and travel show, we're focused on seizing opportunities for Alaska HDTV to innovate and grow," said Scott Slone, producer of, Alaska with Scott Slone. "Expanding the content of "Alaska HDTV" ties into our commitment to consistently increase our programmatic offerings and better serve Alaska HDTV viewers with great content, diverse voices and unique experiences."
Be sure to catch Scott Slone and Payge McMahon for Iditarod 39 – Series will start March 5th 2011 on AlaskaHDTV.com.
About Alaska HDTV
Alaska HDTV is product of Perfect Blend Media, LLC an Alaska digital media production company based in Anchorage, Alaska. Perfect Blend Media, LLC is a boutique production company specialized in creating mixed media productions that reach the correct audience with the right message at the right time – in the right place. We use a blend of new media applications including podcasts, mobile apps and social media with a dash of traditional media tactics such as TV, DVD and out of home marketing.
Alaska HDTV is a series of shows produced in high definition – dedicated to sharing the Alaska experience. "Alaska with Scott Slone" is a show where viewers join fifth generation Alaskan Scott Slone as he hikes, boats, climbs and travels throughout some of the most awe-inspiring locations in the last frontier. These TV-style show are produced in (HD) high definition, each episode averages 10 minutes in length for digital media, and 30 minute segments for TV, DVD, Mobile and Video on demand networks. Website: www.alaskahdtv.com

Media Contact:
 Jeanne Newman | [email protected] | 1.206.201-2457