Payge McMahon 

is an adventurer, journalist, yoga instructor and motivator. She is a 2X broken back survivor (six vertebrae), professional optimist and physical rehabilitation specialist.
She has been featured on '

The Raft

,' an adventure survival series on 

National Geographic

Channel, Alaska HDTV and ESPN's '

Journeys & Victories.'

 Her episode, on ESPN, won a Gracie Award, honoring women in media.
Payge is a contributing writer for National Geographic, Competitor and Endurance Sports & Fitness. Her image and story have been used in 

advertising campaigns for Canada Goose, Adidas Outdoor, YMCA organization and more.

Background
As a teenager, Payge was in a horrific car accident that left her with a broken back and in a body cast. She would learn how to walk again, but doctors told her debilitating, chronic back pain would plague the rest of her life.  
Traditional Path

Payge went onto college: studying at Penn State and at universities in Spain and Mexico. She received a B.A. in International Politics and Spanish and earned an MBA from California Lutheran University.
She did what society-and family expected. She married her college sweetheart, bought the house in the suburbs and worked her way up the corporate ladder, managing global contracts for Fortune 500 companies, eventually landing on Wall Street.
Then one day, she walked away. 
Fork in the Road + The Bucket List = Leap of Faith

Her beloved mother, a non-smoker, was diagnosed with stage 4 lung cancer. During her nine-month battle, her mom endured chemo, radiation, shingles, surgeries to remove brain tumors and her gallbladder. But this fight was not hers to win. She died at the age of 59. 
Soon after, Payge found her Mom's unfinished, adventurous, bucket list in a night stand. It was a light bulb moment. She knew what she had to do.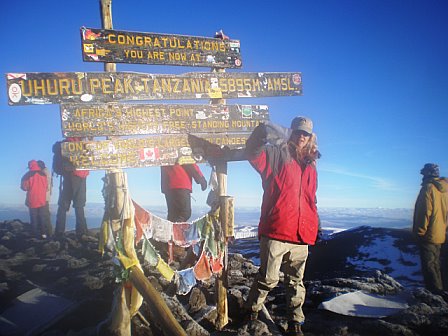 Payge set out on a mission to complete the list and spread her mom's ashes along the way. She took a leap of faith, divorced, sold everything she owned to finance her quest, got into shape, researched and began a journey that would span over a decade; to the Seven Wonders of the World, summits of Mt. Kilimanjaro, Mt. Fuji, the Amazon Rainforest, the Sahara Desert, climbing in the Himalaya, Andes, Alps, Sierras, cycling across Southeast Asia, dogsledding in Alaska and running 250km ultra-marathons in the USA and Iceland.
Yoga
Along the way, she took up the practice of yoga to manage her chronic back pain. It helped give her the physical and mental fortitude to do things doctors once told her would be impossible.
In 2008, studying Iyengar Yoga in Koh Phangnan, Thailand, she received her 200-hour yoga teacher's certification. 
2X Broken Back
in 2018, Twenty-eight years after breaking her back the first time, at the age of 43, she broke it again, falling from a tree. 
Payge's orthopedic surgeon stated, that if it were not for her practice of yoga and staying in shape, she would have died in that fall. Thanking her lucky stars and knowing recovery was a long road, she incorporated DDPY (DDP Yoga) into her physical rehabilitation. It helped her heal in record time.
Five months after breaking her back in four places, left leg and arm, followed by two surgeries to implant titanium rods and screws in her limbs and remove a tumor near her ovary, she backpacked the 93-mile Wonderland Trail around Mt. Rainier.
Three months later, she climbed on top of the Great Wall of China and spread her mom's ashes on the final Seventh Wonder of the World.