Motivate  +  Educate  +  Inspire 
Book Payge for your next school assembly, community event or conference!
'Learning through Adventures' 
– (School Program)  *Most Popular*
A motivational, educational and inspiring assembly that is designed to get kids excited about learning, trying new things and overcoming adversity.  
It Incorporates history, science, math, geography and cultural diversity, reinforcing that what they learn in school today prepares them for tomorrow's adventures! 
This is an interactive 45 minute – 1 hour presentation. 
Great for schools, community organizations, clubs and parks.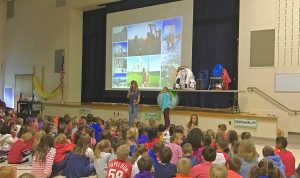 *Presentations are customized to addresses specific themes or topics