Once in awhile I get spoiled! I joined Cryosurgery and Learjets for a quick round trip flight up to Cincinnati for Monday Night Football: Bengals vs. Steelers. Being a country girl from Pennsylvania, of course I was cheering for the Steelers (BTW- they won;-)
I enjoyed the stadium suite, meeting new folks and getting a special preview ride in the new 2011 Learjet 45. Base price = $12.7 Million. If I wanted an iPod hook up with Blue Ray, that was an additional $70K. A microwave was $15K! Holy Hell! That being said... I could get used to a private jet!;-) I'm already composing my letter to the CEO...
Dear Mr. Learjet CEO,
If you sponsor me, I promise to shamelessly promote your name and display your logo everywhere.
Kind Regards,
Payge McMahon :-)
Thank you Cryosurgery and Learjets (Bombardier) for a fun evening!
[caption id="attachment_492" align="alignnone" width="300" caption="Payge McMahon with Brian Render, a cute Cincy fan:-)"]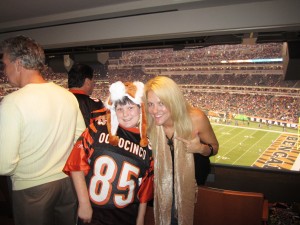 [/caption]
[caption id="attachment_497" align="alignnone" width="300" caption="Chairman of Cryosurgery, Ron McDow & Payge McMahon"]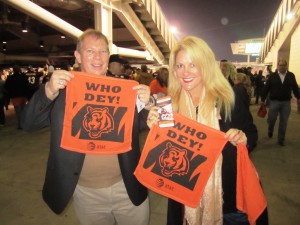 [/caption]