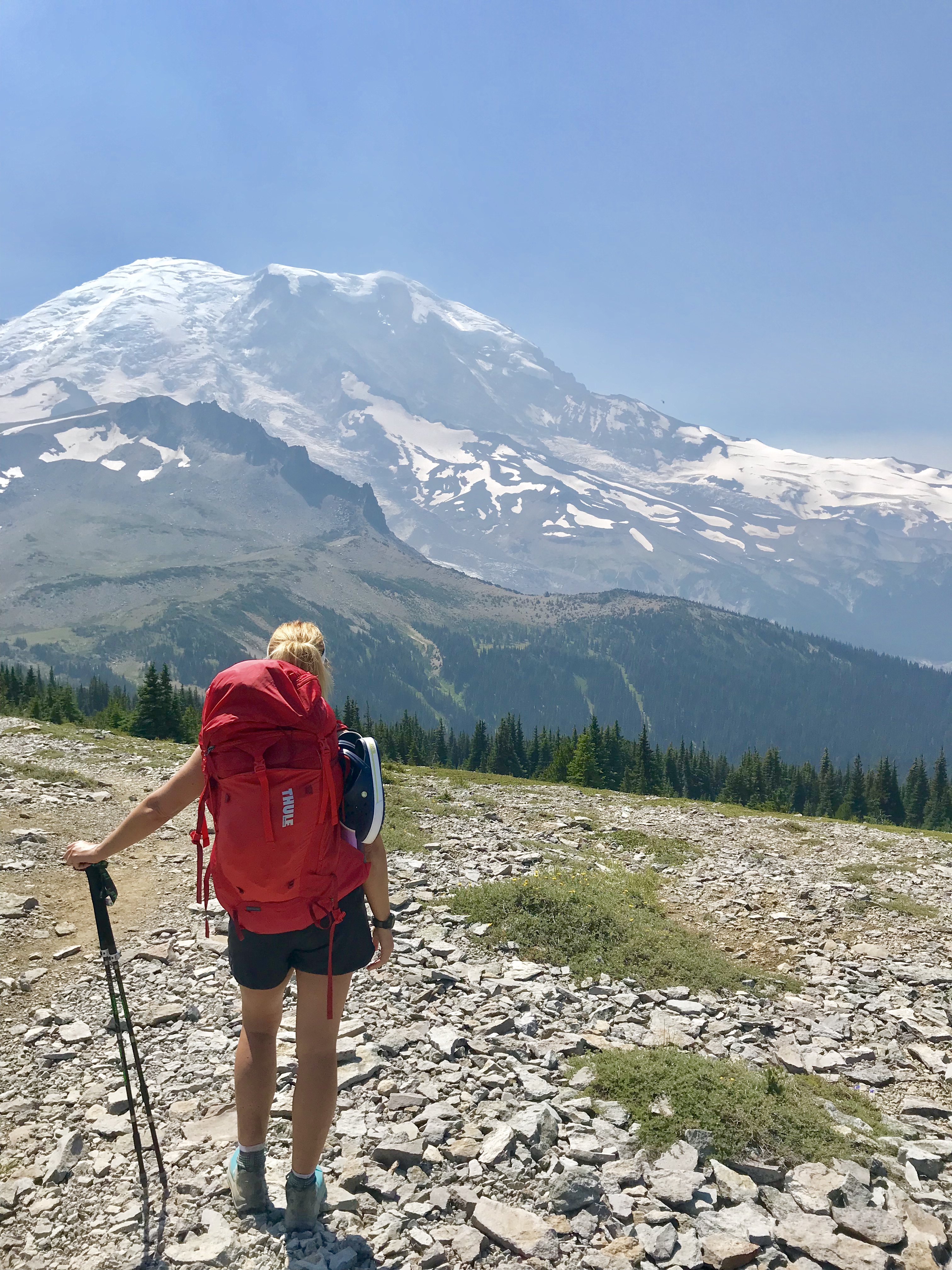 8-Days, 93-Miles + 22,000 Feet of Elevation Gains & Losses
If you love hiking in alpine wilderness, majestic mountain scenery, turquoise lakes, churning glacial rivers and rustic camping, the 93-mile (150km)  Wonderland Trail is for you! The Wonderland Trail circles Mt. Rainier (14,410ft./4,392m) in Washington, USA.  It includes 22,000 feet (6,706m) of elevation gains and losses, with a peak height of 6,800 ft. (2,073m) at Panhandle Gap – one of the most picturesque parts of the trail.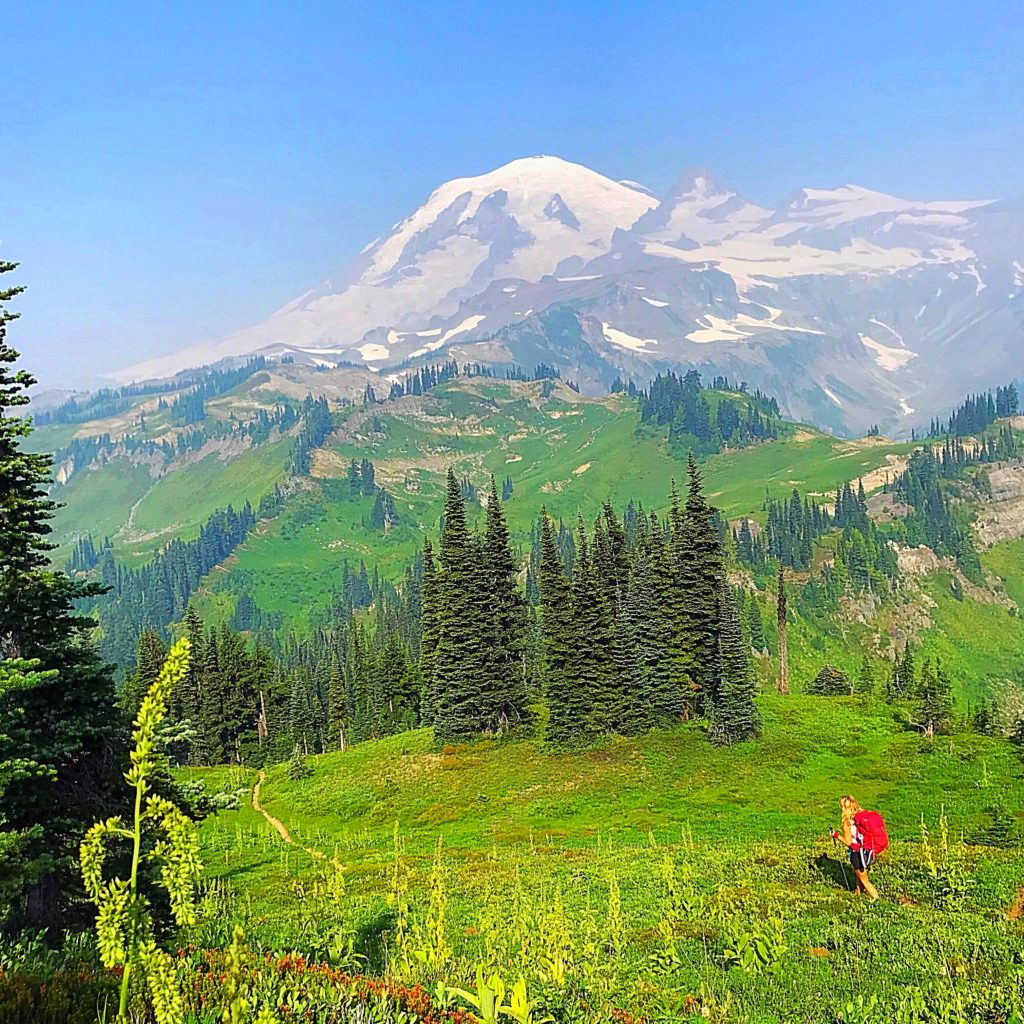 A permit is hard to obtain. Apply online the day Rainier National Park opens their calendar – March 15. Trust me, if you do not, and live out of state, you'll be S.O.L. The only other option is to gamble and apply for a walk-up permit on the day you want to trek. Two of us, in our party of four, applied online on March 15, each paying the $20 application fee. Only one 9-day itinerary (August 7-15) was approved – and we didn't get all the campsites requested.
We did one resupply, dropping off our bucket at Longmire Wilderness Information Station, on the drive from Seattle to our starting location at Sunrise. Because of this, we began our trek carrying 6-days of food and each of our packs weighed 30-40 lbs. We trekked counter-clockwise, starting and finishing at Sunrise. After getting a feel for the trail and talking with other backpackers about water sources and buggy sites, we 'adjusted' our plans. We finished the 93-mile Wonderland Trail in 8-days and may or may not have partaken in unauthorized 'squatting' at certain campsites.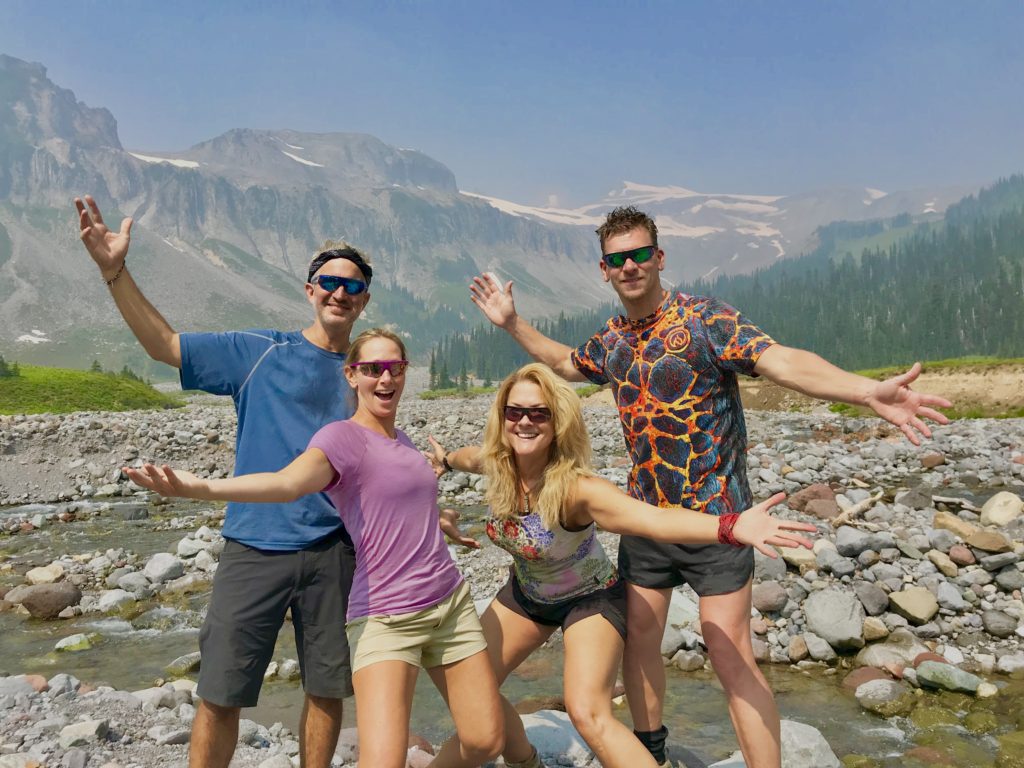 You can't beat the grandiose mountains of the West. While we loved the scenery along the Wonderland Trail, we were less than impressed with most campsites. Most were tucked into buggy, wooded locations with no immediate access to drinkable/bathable water (see WT Tips below). Don't let this deter you, it is worth the experience.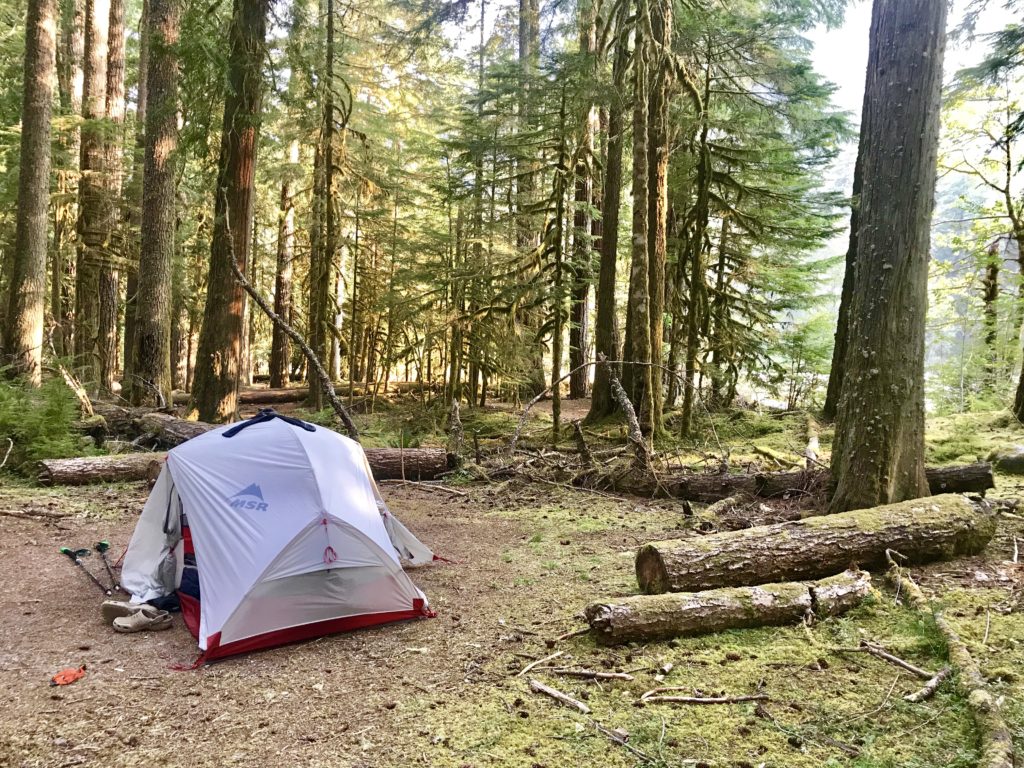 Like any adventure, there are lessons learned. Below is a list of our 5 favorite gear items, and Wonderland Trail tips to help plan your trek.
5 Gear Favorites
Wonderland Trail Tips:
Permits: Apply for Permits on March 15, the day Rainier National Park opens its calendar. $20 application fee.
Rainier National Park Entrance Fee – $15
Favorite Map: Mt. Rainier Wonderland Trail by Green Trails (National Geographic's map does not give a big picture with mileage and elevation details. It only shows details on segment maps, going clockwise.)
Campsites:
BEST (breathtaking views with easy access to water) – Mowich Lake, Indian Bar & Summerland
Buggiest – Granite Creek, Ipsut Creek, S. Mowich Lake & Devils Dream
Length of Trip: 
Backpackers – Take 10-11 days and give yourself a rest day (ideally at Mowich Lake – it is BEAUTIFUL! and/or if you can get a room, in Longmire National Park Inn).
Ultramarathon Runners – Take 1-3 days utilizing resupply/caching or support crew.
Favorite Spot: Mowich Lake (It's a REAL lake, big, blue and did I mention BEAUTIFUL!)
Most Challenging Day:
Ipsut Pass– Ascending 2,700 ft. in 3.6-miles up switchbacks (a few were pretty steep) with limited shade.
Resupply/Caching: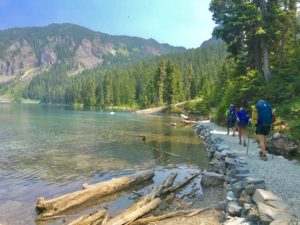 Mail a 2nd resupply bucket to lighten the load. Be sure to mail it at least 2 weeks ahead of time.
Longmire and Sunrise are the only places you can buy anything. Inventory is limited.
'Dumpster Diving' – Most resupply areas have a 'hiker donation' bucket you can pick through.
Water Situation:
Not as plentiful as you'd think. Fill-up at running streams when you can.
To purify water, we used different methods – A UV SteriPenand filtrations systems using a LifeStrawbottle/ Sawyer Squeeze
Don't depend on 'lakes' for good drinking water. Most are small, stagnant, buggy and more like 'ponds', including: Mystic, Golden, Aurora & St. Andrews.
Bugs: Absolutely bring bug spray for flies and mosquitos and shelter with a bug net. They are relentless on many parts of the trail.
Animals: We saw no bear, mountain lions or wolves. We did see a bunch of goats, handful of squirrels, a marmot and two little black snakes that crossed the trail.
Weather:
Mid-August is warm. Warmer than I expected. It gets a little chilly at night. A light down coat or fleece is recommended. A sleeping bag rated to 35F would be fine.
We lucked out and only had one day of rain. Bring rain gear.
Tent vs. Hammock: All campsites have trees. That being said, it is easier to find a spot for a tent vs. two suitable trees.