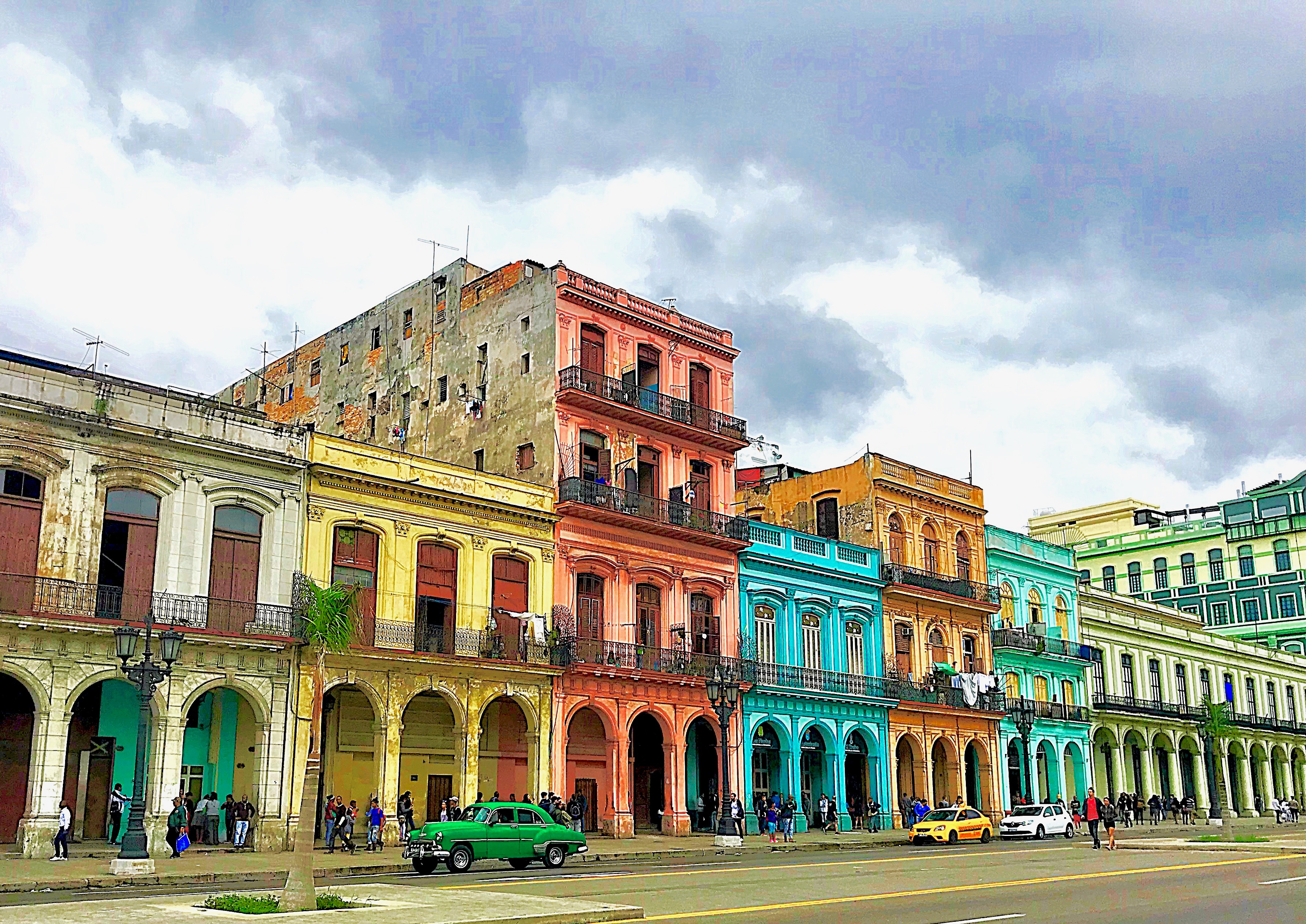 As an American, traveling to Cuba is easier than it has been since the 1960's. You can jump on a cruise ship, join a cultural group tour (both expensive options) OR save money and go on your own.  This is what we did and how you can too.
Below is a summary of our experience, tips on planning a trip and recommendations.
Summary: We flew to Cuba, on a 'Family Visa,' rented an apartment in Havana, through Airbnb, explored the city and took day trips.
The 8-day trip cost less than $700 a person, and this includes everything (airfare, apartment, food, beverages, excursions and shopping).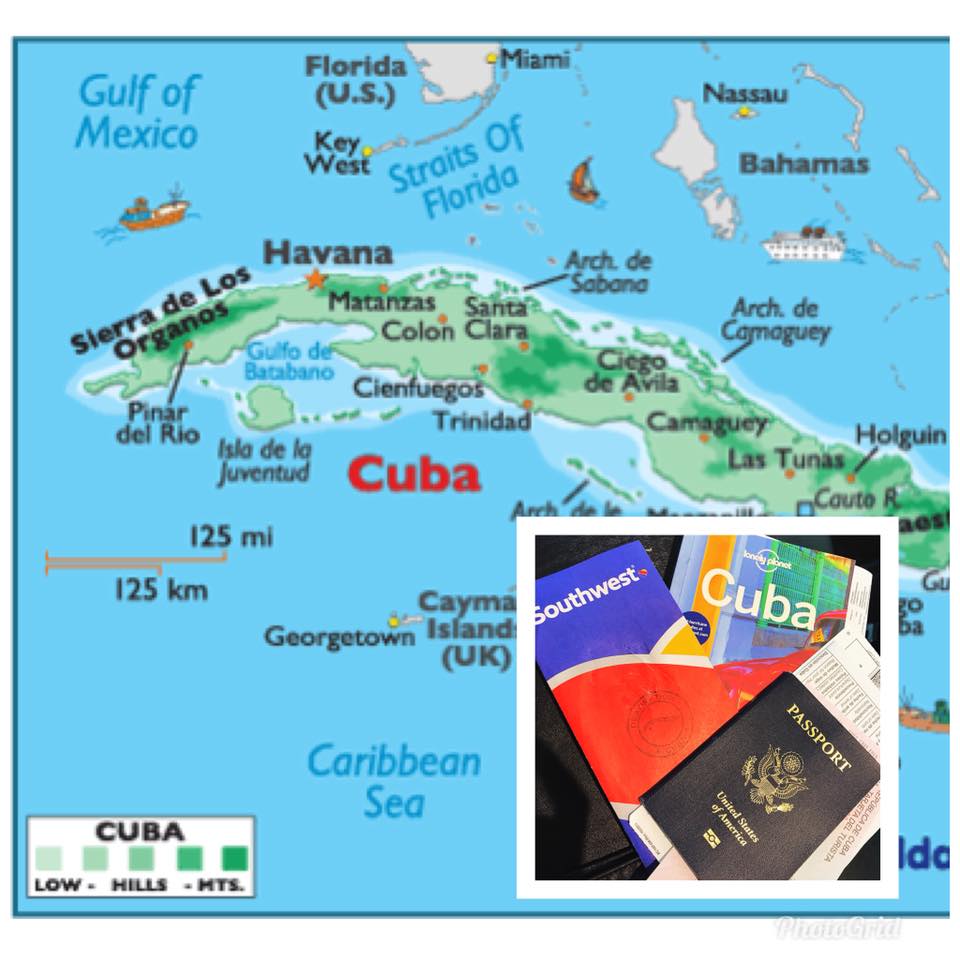 During our stay, we explored Havana/ Old Havana, took cab rides in the 1950's classic cars, did the Havana Club Rum tour, learned how to roll cigars, enjoyed grapefruit daiquiris at Hemingway's favorite bar – La Floridita, visited markets, historical places (ex. Plaza de la Revolución), walked along the Malecon (famous 5-mile waterfront esplanade), saw an amazing show at the Tropicana and the Don Quixote ballet at the The Gran Teatro de La Habana. We also did lots of eating, salsa dancing (FAVORITE – Club Jardines del 1830), went to the beach outside of Havana – Playa Mar Azule Santa Maria (30-min. cab ride) and spent a day in the countryside in Viñales. There we hiked in the  Cuevas de Santo Tomas in Vinales (2.5 hr. drive from Havana), viewed The Viñales Mural de la Prehistoriaand visited a tobacco farm.
10 Tips – Good Things to Know Before Going to Cuba
Visa*– We were granted a 'Family Visa,' at the Southwest airline counter in Ft. Lauderdale, before our flight to Havana. It was $50 a person. Note – my partner and I do not look Cuban nor requested the 'Family Visa' in Spanish. The agent did NOT ask us any questions about our'Cuban family' nor did the visa form. I'm not confirming or denying we have family in Cuba. I'm just sayin', nobody asked. Maybe it's a 'don't ask, don't tell' situation? Either way, we were allowed to travel to Cuba. *As Americans, we must meet one of 12 categories of travel to obtain a visa to Cuba. 
Money – American credit cards and debit cards will not work in Cuba. Bring cash. $100 bills are best.
There are two official currencies used in Cuba. Visitors use the Cuban Convertible Peso (CUC$) and residence use the Peso Cubano (CUP or MN – moneda nacional). 
The CUC$ is pretty much an even, 1:1 exchange with the US$. However, the Cuban government imposes a 10% fee when converting US$ to CUC$. Interestingly, they do not impose this fee on other currencies. 
Exchanging money at the government run airport, or any other government run venue, is expensive. You will lose $10 per $100. The key to a better rate is to ask a local if they know a 'guy' who can give you a deal. Cubans are resourceful and know ways to work around the system. We met up with a 'friend of a friend,' our first night, and lost only $5 per $100.
Hotel vs. Apartment & Casa Particulares– As Americans, we are 'technically' NOT allowed to stay in resorts or hotels run by the Cuban government*. Most are run by the government. *The U.S. Department of States' blacklist' or 'List of Restricted Cuban Entitles' can be found here.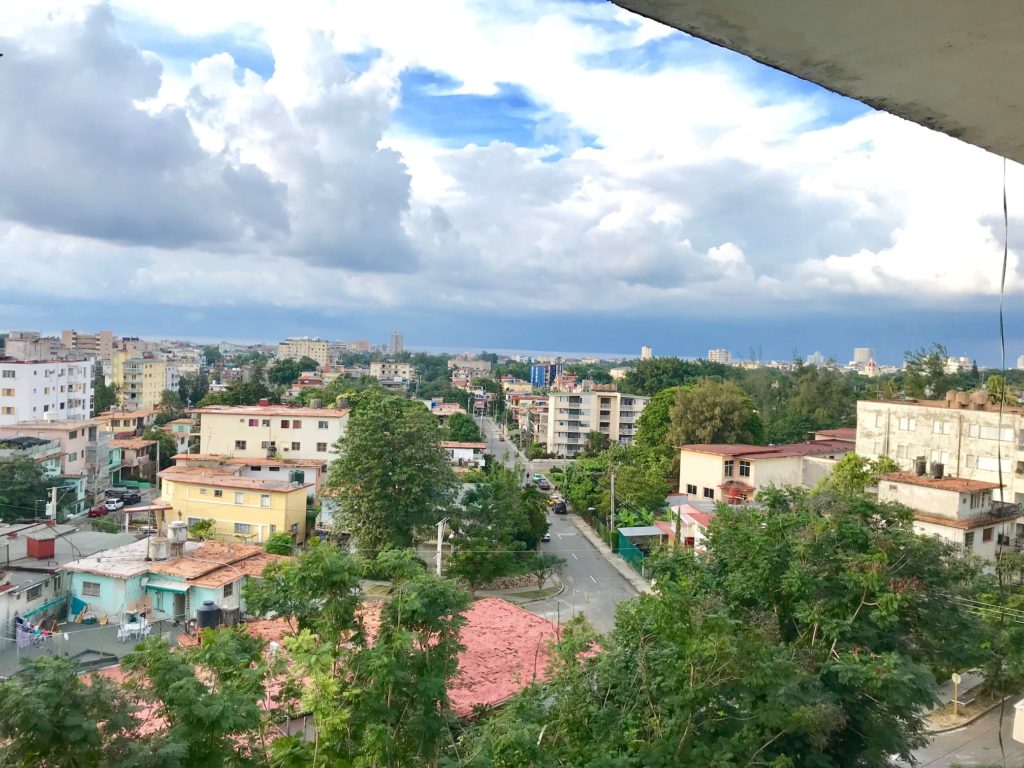 We rented a 2-bedroom apartment through AirBnB. It was $60/night – a holiday rate (the week of New Year in January). Normally, the apartment would have been $25/night. It included a once a day maid service. For an extra fee, the apartment's owner offered to arrange someone to shop and cook authentic Cuban meals for us. 
We were lucky, because our friend's mom, aka 'Mommacita' and sister, who still live in Cuba, cooked for us. Hands down, best food we had all week. My partner gained 8 lbs.!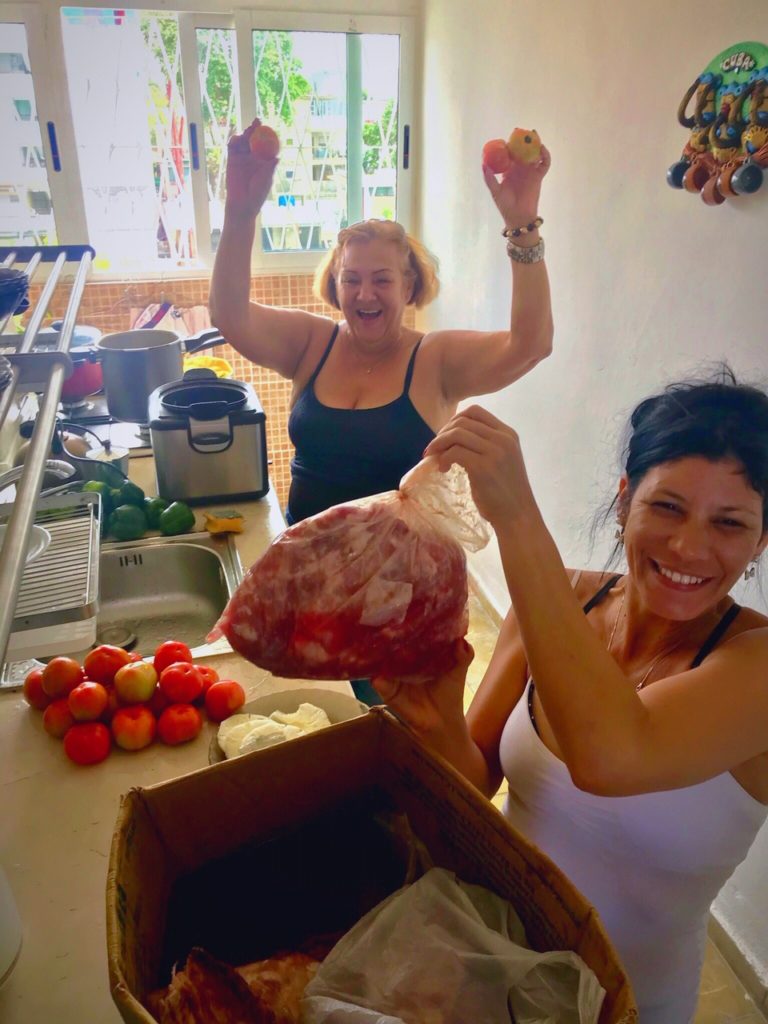 Casa Particulares are another great way to experience Cuba, if you don't have a 'Mommacita.' Similar to a bed & breakfast, you rent out a room in a family's home and they will cook for you. 
Toilet Paper/ Wet Wipes– Bring them everywhere! They are on short supply, even at the nicest of hotels and venues. Most places, you are lucky if there are toilet seats. Justa' sayin'! 
Internet –Internet access and its infrastructure is poor in Cuba. They have Wi-Fi hotspots and internet cafes – with long lines outside them. High-end hotels will have internet, but connection is terrible. For us, it was wonderful to disconnect for the week.
History & Research– Post Fidel Castro, Cuba is still a socialist country, run by the Communist Party, with less restrictions. Eleven-million people, live within the 15 providences, of Cuba (2.2 million in the city of Havana). 
I personally like to know as much as I can before traveling to a new country. I recommend watching, The Cuba Libre series on Netflix and the movie, Papa Hemingway in Cuba. Read, : Lonely Planet's guide on Cuba & Barcardi & the Long Fight for Cuba – The Biography of a Cause.
People– Friendly. Always negotiate. People don't make diddly-squat. The average income, less than $30 a month. Doctors make $50/month and will drive cabs on the side to earn more money. Every household gets monthly rations (X amount of meat, eggs, vegetables, toothpaste, shampoo etc.). If they need anything else, they barter or buy it.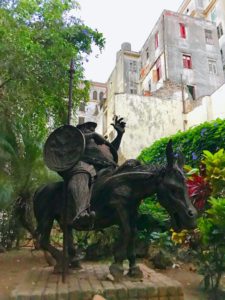 Spanish – Brush up on your Spanish. It always helps to know the basics and is appreciated by locals. Outside of touristy areas, most Cubans don't speak any English.
Food- Stores and most restaurants are state run. The good news, pricing is consistent. The bad news, there is little variety and grocery stores often run out of staples early in the day. There are also shortages. When we were in Cuba, there was a shortage of eggs. A recent hurricane had wiped out half-a-million egg-producing chickens.
Gift Bags–Before we went, I bought $200 of necessities (shampoo, conditioner, deodorant, razors, tampons), Wigwamsocks, items for kids (crayons, coloring books etc.) and made gift bags to give away to people. It was our little way of saying 'thank you.'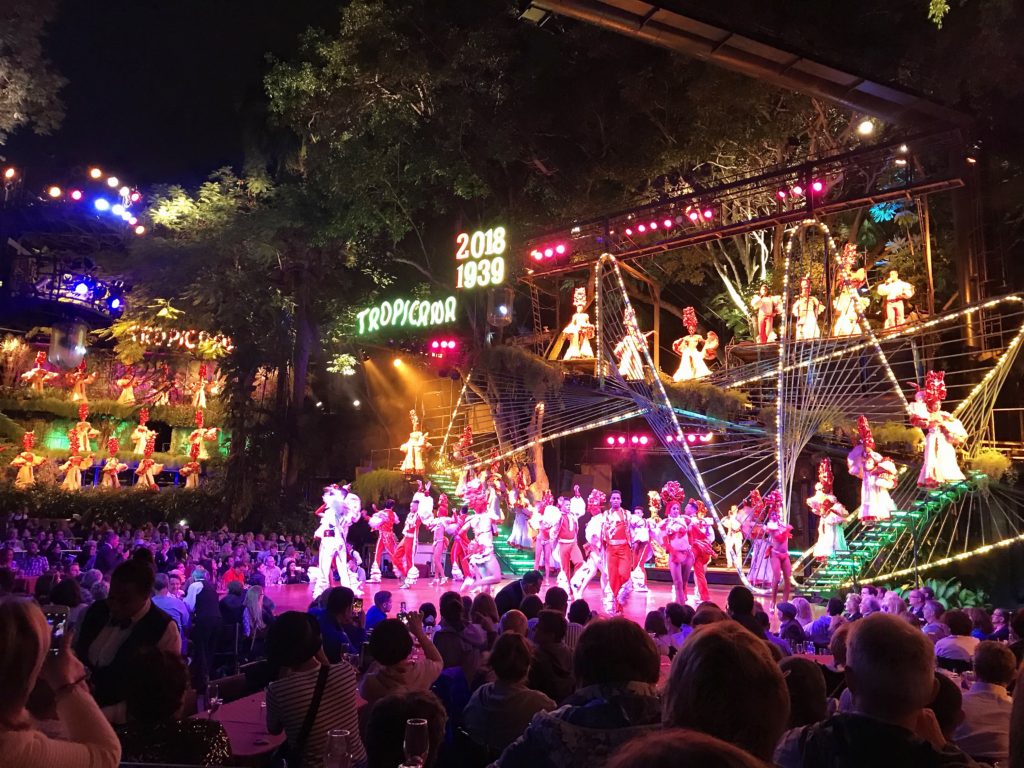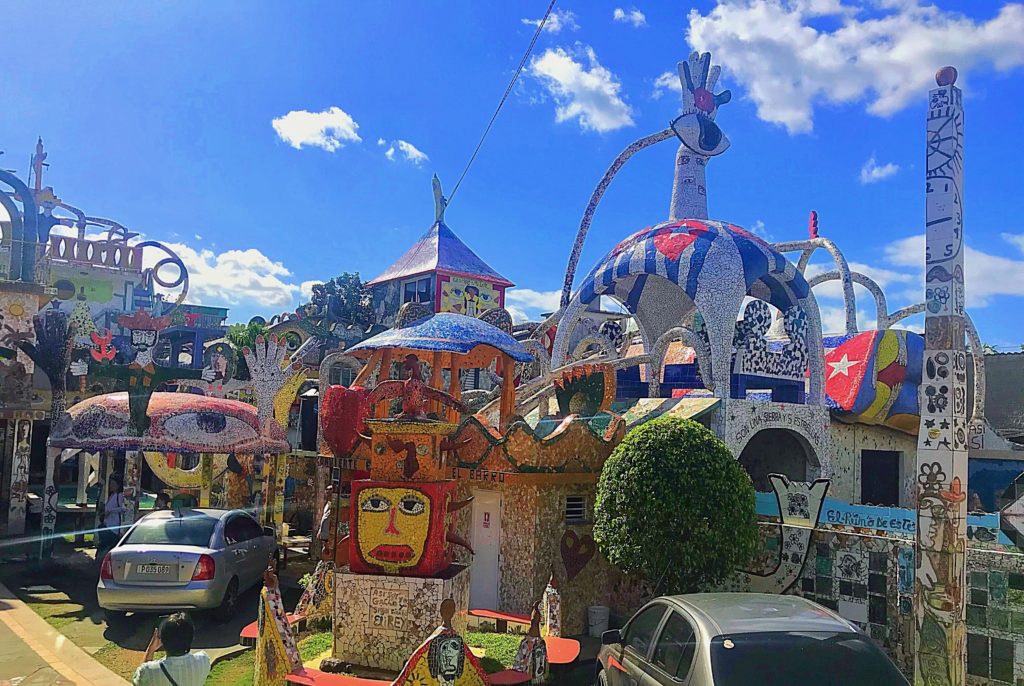 Over Rated: 1.) Jazz Club La Zorra Y El Cuervo– Recommended by Lonely Planet, we all agreed, it is highly over-rated. It is a small jazz venue, located in a basement. Over an hour wait, just to get inside. While the artists were talented, the acoustics were deafening.
2.) Fusterlandia– Known as the Cuban 'Gaudi,' artist, Jose Fuster colorfully tiled this neighborhood with street art. Lonely Planet compares it to Barcelona's Park Güell. If you've never been to Barcelona, and are bored in Havana, check it out. Otherwise, Fusterlandia only covers a few blocks in a small town and is no comparison. 
Last Thoughts & Planning the Next Trip to Cuba:Traveling with a tour group will easily cost $4,500 per person. Tour companies plan and handle all the logistics and that may be worth it for you. 
I definitely want to return to Cuba (sans tour group) and explore the south/east and its mountains near Santiago. I'll fly into Santiago, in southeastern Cuba (from Havana it is a 12-hour drive or train ride). Explore the city and its history – the Spanish to José Martí, Fidel Castro, Che Guervara and the Barcardi family. Climb Pico Turquino, the country's highest peak (6,476 feet). Scuba dive off Jardines de la Reina(Gardens of the Queen) and visit the Bay of Pigs (Bahía de Cochinos).
Cuba is only 103-miles from the tip of Florida. It is rich in history, culture and beauty. Go. Explore. Learn.