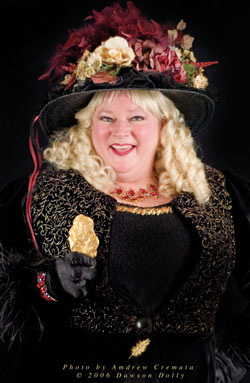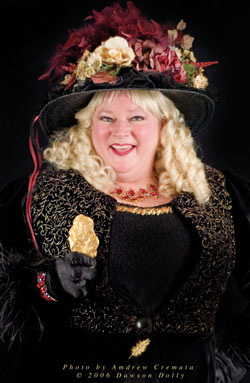 Legendary Entertainer and 3X Tour Guide Winner of the Year, Dawson Dolly's 8-Day Iditarod and Fur Rondy Adventure Tour is a HOOT!!  Dolly is a charismatic, colorful character who favors bold dresses circa 1800's and proudly jokes 'her husband is a gold miner and I'm a gold digger!" She is a popular travel host and motivational speaker.  A reformed 'Madam' who found the Lord, Dolly shares her passion and love for the Great Land of ALASKA in her fun 'Dolly's Iditarod and Fur Rondy Adventures tour."
From Anchorage to Kobuk Valley, Turnigan and back to Anchorage Dolly will host you around the famous Fur Rondy Festival and the World Championship Sled Dog Race.  A celebration of when the miners and trappers would come into Anchorage to trade their winter yield (gold & fur), it has evolved into a huge festival including reindeer races, sled dog pull, snow shoe softball, the Miners & Trappers Ball, outhouse races, Jim Beam Jam, poker tournaments and much, much more.
You'll attend the Iditarod Mushers Banquet and cheer the mushers on two days later at the start of the toughest race on earth, as they begin their 1,150 mile journey to Nome.
In between, you'll have the opportunity to go shopping, skiing, snow shoeing, snowmobiling, ice skating and take a tram ride up a mountain.
Dolly likes to say "live your life with passion, expect great things to happen and remember the gold is within!" Entertaining the whole way, Dolly will warm your hearts.
For more information: http://www.dollysalaskatours.com & www.dawsondolly.com