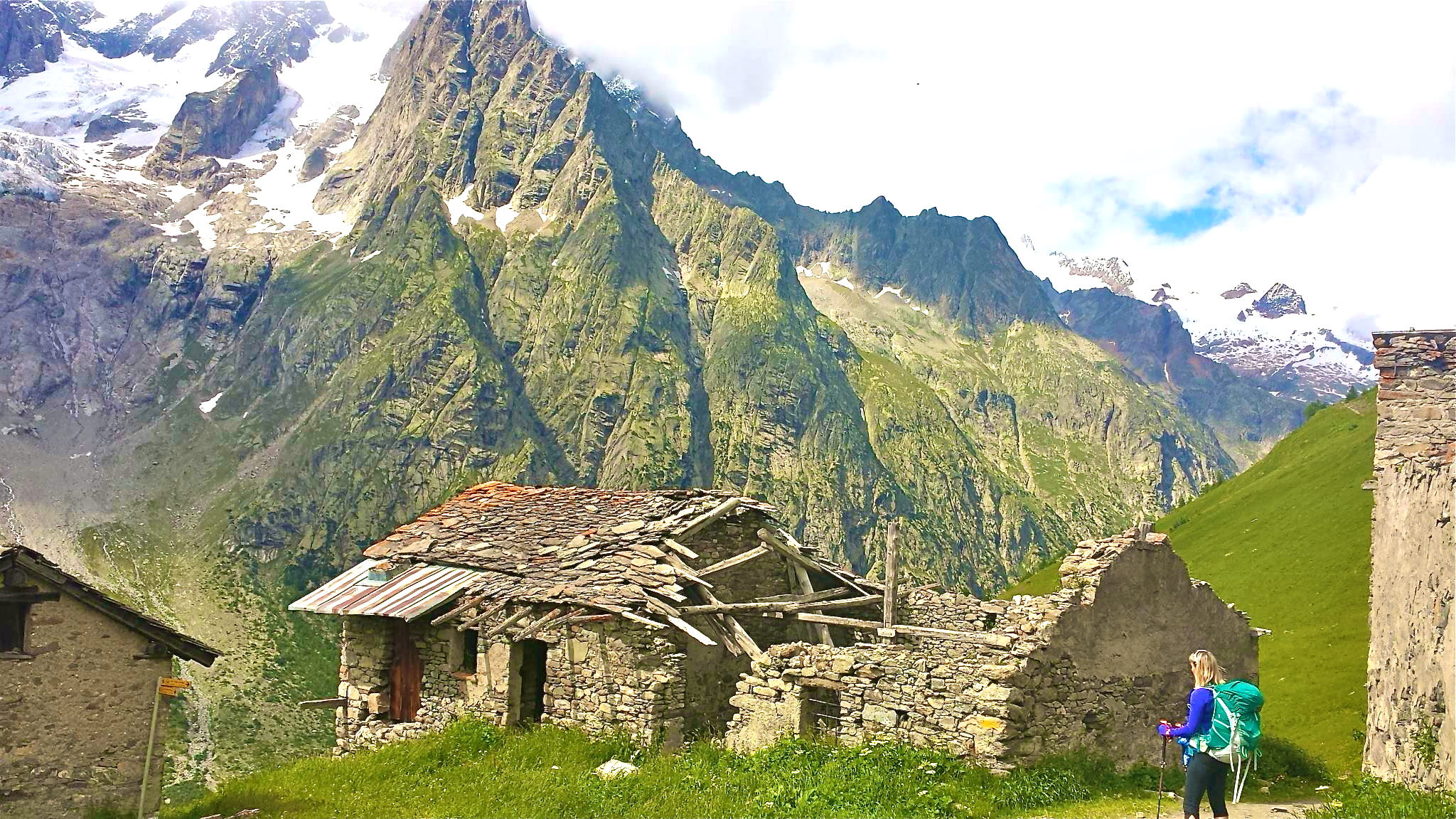 If you need some ideas for your Bucket List….here are my Top 3 Recommendations for 2015!
Backpack the Tour du Mont Blanc – Europe (France, Italy and Switzerland)  
In the summer of 2014, I completed this trek in 9-days, starting and finishing in Courmayeur, Italy.
The Tour du Mont Blanc is a famous 170km (105 miles) trek around Mt. Blanc, 4,807 m (15,771 ft.), the tallest mountain in Western Europe. It takes the backpacker through three countries – Italy, Switzerland and France, up and down 11 passes and 19,000 meters (62,000 ft.) – the equivalent elevation gains and loses of climbing Mt. Everest. The traditional starting point is at Les Houches in Chamonix Valley, France. Most backpackers go anti-clockwise and take 11 days to complete it.
Depending on budget and resources, backpackers can camp, stay in refuges/rifugios, bed & breakfasts, local hotels, sometimes called gites and dortoir. I sampled all the sleeping options along the way.
Lodging averages 50-60 Euros a person, per night, including breakfast and sometimes dinner. An official campsite, with bathroom and shower facilities, runs 15 Euros a person, per night. Or you can quietly go off trail into the woods and pay nothing, like I did, when camping.
My Osprey Exos backpack weighed almost 30 lbs. (13 kilos) because I carried provisions for camping, including a hammock, Thermarest sleeping pad, +20º F (-7º C) Western Mountaineering sleeping bag, silk liner, poncho (doubles as a tarp), Jet Boil stove and dehydrated food.
If you are not camping, you really only need a silk bed liner, clothes and necessities. Personally, I would still bring your own sleeping bag. Also, food is readily available along the trail. Realistically, snacks and maybe lunch are all you need to carry each day.
Pairing up the Canada Goose Ridgeline Tech Shell and Hybridge Lite was the right way to go for this adventure. Weather varied over the 9-day trek. It went from sunny and 85º F (29º C) to freezing rain and 30º F (-1º C). Sometimes I just needed to wear one jacket, other times, I wore both at the same time for protection against the cold, rain and wind.
If you are going to backpack the TMB, I recommend getting the book, "Tour of Mont Blanc – Complete Two Way Trekking Guide," by Kev Renolds. It will be your bible. Along with maps and elevation charts, it breaks down the TMB in eleven stages, detailing the terrain, distance, estimated hiking time, route alternatives, sleep and food options.
Alaska Winter Adventure – Dogsledding, Snowmobiling, Aurora Borealis & Hot Springs – North America (Alaska) 
I spent 9 days in Alaska and had an action packed winter adventure! From attending the start of the Super Bowl of Ice and Snow, aka, The Iditarod, learning to dog sled, snowmobile, sweating in a thermal hot spring, while air temperature hovered around -10F, and seeing the Aurora Borealis, this adventure was just too cool not to share. Everyone should add this trip to his or her bucket list!
First of all, you have to appreciate and understand the 1,049-mile Iditarod Sled Dog Race. It is one of the most brutal endurance races in the world. Each musher and his/her sixteen dogs, energetic husky-mixed athletes, race across Alaska, from a frozen lake in Willow to the small town of Nome, over a period of 8-15 days. The teams will traverse frozen forests, snow, barren tundra and endure temperatures that often drop below -40F.
Canada Gooses' own, tough as nails, Lance Mackey, has won the Iditarod 4 times and will be going for his 5th win in 2015.
I recommend going to Alaska a couple days before the race. Check out the Iditarod Headquarters in Willow, tour the museum, learn about the Iditarod's history and the 'Great Race of Mercy,' stemming from the famous 1925 diphtheria outbreak and Balto the sled dog, who helped transport the life saving serum to the people of Nome. Watch the dogs get their pre-race vet checks. In Anchorage, attend the famous Fur Rondy festival and mushers banquet; mingle with other fans and your favorite mushers.
Before you know it BANG, race day is here. Join thousands of bundled up fans, eating reindeer dogs and caribou steaks, cheer on the sled dog teams.
The next day, it's your turn! Travel to Talkeetna, and learn how to dog sled at former Yukon Quest champ and Iditarod musher, Vern Halter's Dream a Dream Premier Iditarod Kennel.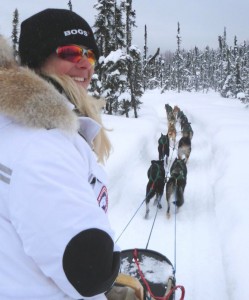 Go snowmobiling in Trapper Creek, journey to Fairbanks to see the world ice-sculpting contest and then up to Chena to watch the hypnotizing, (Aurora Borealis) Northern Lights and take a dip in the famous Chena Hot Springs.
It is gonna be cold! Well below freezing. My Canada Goose Expedition Parka was perfect, but when it came to dogsledding and snowmobiling in artic winds, I opt for the Snow Mantra. In the hot springs, while decked out in your favorite Speedo or bikini, your head is going to get cold, put on a Canada Goose Aviator Hat and keep warm. It is fashionable and functional!
If the above logistics stress you out, go with a small group, adventure tour like Planet Earth Adventures LLC. Owner and guide, Albert Marquez is the best! For more information go to www.discoverak.com or contact Albert Marquez directly: [email protected] / (907) 717-9666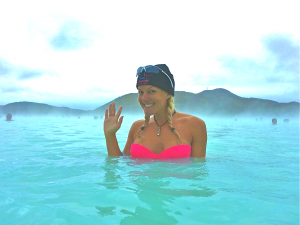 Ice, Ice, Goose! – Iceland
Iceland is an arctic adventure for those who like to hike, dive, dip and ride. Sculpted by volcanoes, glaciers, geysers, mountains, lakes, thermal hot springs, black sand beaches and pastures, some say, "If you can't go to the moon, just go to Iceland."
Hiking – To get a taste of the country, take 3-4 day and backpack the 48-mile, Laugavegurinn/ Fimmvörðuháls trek. Hike over mountains, lava fields and waterfalls. If the trail isn't enough, climb one of Iceland's many volcanoes, like the Hekla and Laki.
SCUBA – Experience the Silfra Fissure, the only place in the world, you can dive directly into the crack between two continental plates. Throw on a dry suit, BCD, tank and jump into Iceland's Thingvellir Lake to reach out and touch both the North American and Eurasian continents. If you get thirsty, just drink from the lake. Filtered through porous underground lava, the ice, blue waters are clean and taste great!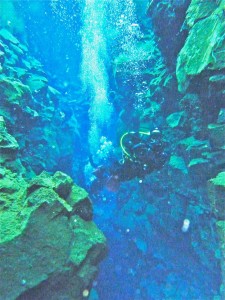 Horseback Riding – When you arrive in Reykjavik, connect with Islenski Henstruinn and ride an Icelandic horse. Traced back to the Vikings, these horses are smaller, more like the size of a pony and are known for their unique 'tolt' gait. Developed over generations, to navigate lava terrain, the gait is smooth and speedy, not bumpy or jarring. Icelandic law prohibits any other horses from entering the country and if a horse leaves Iceland, for a competition or any other reason, it can never come back.
Blue Lagoon – There are many geothermal spas in Iceland, but the most famous one is the Blue Lagoon, located in the Grindavik Lava Field on the Reykjanes Peninsula. The 37–39 °C (98–102 °F) waters are rich in skin healing minerals, including silica and sulphur. You can drop in for the day or stay at the adjacent hotel and pamper yourself with one of their many spa treatments.
Iceland is cold, even in the summer. The arctic winds are unforgiving and the rain chills you to the bone. The Hybridge Lite vest was perfect for horseback riding. Most days though, I wore the Camp Hoody and when the cold rains came, I added on the Timber Shell.Watch Full Movie Online Streaming Online and Download