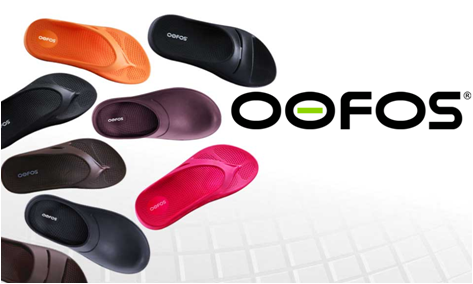 Some say it is 'orgasmic.' Others describe it as 'an overwhelming rush of pleasure.' They are talking about thongs. No, not those type of thongs, the footwear kind. A recovery footwear called OOFOS. I tried them and… OOhh my, they are wonderful!
Review: OOFOS OOriginal & OOlala Thong Collections
Overview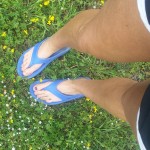 When you put on a pair of OOFOS thongs, it feels as if you are walking on clouds. They are the most comfortable, cushiony, arch-supporting thongs I have ever worn. Known as the 'go-to' recovery shoe for runners, they are equally beneficial for anyone recovering from back, knee or hip surgery.  They are stylish and fashionable, from going to a yoga class, the beach and even horse races.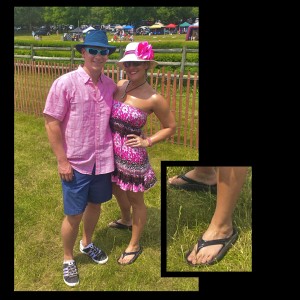 I put on a pair of OOriginals for the first time after running the Badwater Cape Fear 51.4-mile ultra-marathon in North Carolina. My swollen feet, with now black and blue toenails, were instantly in heaven.
I also teach yoga and they are perfect for going to and from the studio.
When it comes to style and not wanting to wear heels, I go to the OOLalas. They are comfy and look great with jeans, dresses and skirts. I even wore a pair to the 74th Annual Iroquois Steeplechase in Nashville, TN.
As I write this, I am 5 weeks post-back surgery and have been wearing OOFOS everyday.  They minimize impact stress to the back so it can heal.
Snap Shot
Both are made with OOFOS waterproof, biomechanically designed OOfoam technology and patent footbed. OOfoam technology is 37% more impact absorbing than any existing EVA, the most used material in footwear.
Unisex
Soft Upper
Wider footbed
Great for Plantar Fasciitis or Heel Spurs
Superior Arch Support
10 Different Colors
Retails: $39.99
Women specific
Designed footbed for a slimmer silhouette
Glossy Upper
2 Toned
5 Different Colors
Retails: $59.99 
Company
Founded in 2011 by former Reebok executives, Paul Brown of Cohasset and Lou Panaccione, their goal was to create a line of "recovery footwear." A Korean chemist created the OOfoam technology. OOFOS corporate headquarters is Reno, NV. The footwear is manufactured in South Korea. The name OOfos came about during the development stage, because every tester would smile and say "OOOHHH".
Design Features & Field Functionality
The lightweight, OOfoam technology is shock absorbing and reduces impact to the feet. Combined, with OOFOS bio-engineered footbed, stress is also minimized throughout the knees, hips and back.
The arch-support holds up with extended wear and continues to help stretch muscles in the foot and leg. *Note: OOriginals have superior arch-support over the OOLaLas
The closed-cell OOFoam is waterproof, won't harbor bacteria or odors. OOFOS are machine-washable.
OOFOS offer instant comfort and do not require a 'breaking-in' period. They are the only thong sandals I have ever worn that did not irritate my toes.
Pros:
OOriginals' superior arch-support
Instant comfort
Reduces running recovery time
Absorbs impact
Lightweight and durable
Cons:
OOLaLa collection's arch support is not as profound as the OOriginals
Collects dirt easily
Recommendations
More arch support in the OOLaLa collection.Watch movie online The Transporter Refueled (2015)