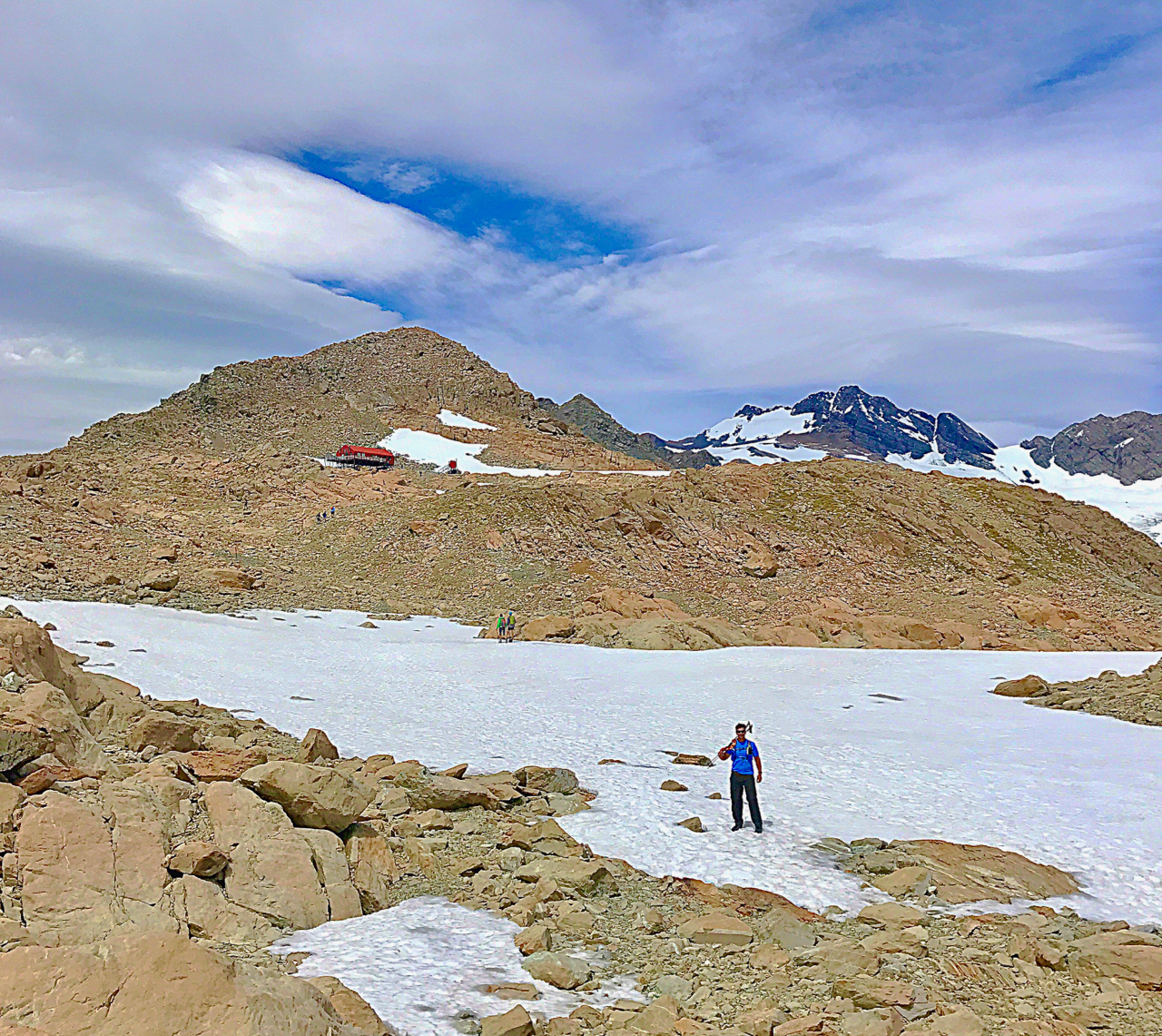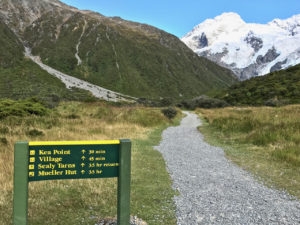 Hands down, this was our favorite trek in New Zealand. The panoramic views are epic; glaciers, lakes, snow covered mountains and ice cliffs.
We hiked the route in less than 6-hours and only recommend it to those in good physical condition, who are prepared and wearing appropriate shoes and clothing.
Summary
The Mueller Hut Route is in the Southern Alps of Aoraki/Mt. Cook National Park on New Zealand's South Island. It is a 6.5-miles round trip trek with 6,800 feet of elevation gains and losses on stairs, rocks and scrambling over boulders. Even on clear summer days, temperatures, at the top, can drop below freezing and wind gusts can reach over 60 mph. It is a serious workout and generally takes 6-8 hours round-trip. Make sure you are in shape, bring plenty of water, snacks and dress accordingly.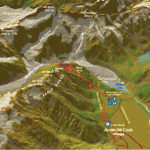 Note – Most guidebooks recommend spending the night at Mueller Hut. If you don't have the time or can't get reservations, this is a perfectly good day hike.

What is the Mueller Hut?
The bright, red Mueller Hut sits alone, at an elevation of 5,900 ft. (1,800 meters), high among the boulders and snow fields in the Sealy Range of Aoraki/Mt. Cook National Park.
It has 28-bunkbeds, a basic kitchen, with running water, and an outhouse. Reservations are required to spend the night. Sleeping bags not included.
Day hikers may eat and rest in the communal kitchen. Bring your own food, cooking equipment and pack out all trash. They do not sell anything at the hut. No food or drinks. Nothing.
The original hut was built in 1914. It has been rebuilt and replaced five times. The longest lasted 50 years. The current Mueller Hut was opened in 2003 by Sir Edmund Hillary.
Our Experience on the Mueller Hut Route
It was the beginning of February, summertime, in New Zealand, and we had spent the night, sleeping in our campervan, at White Horse Hill Campground in Aoraki/Mt. Cook National Park. The day's forecast called for 70F and clear blue skies. After breakfast and dressed in shorts, shirts and hiking shoes, we threw on daypacks, grabbed our Leki trekking poles and walked the short connector path, from the campground to Kea Point Trail, to start our trek.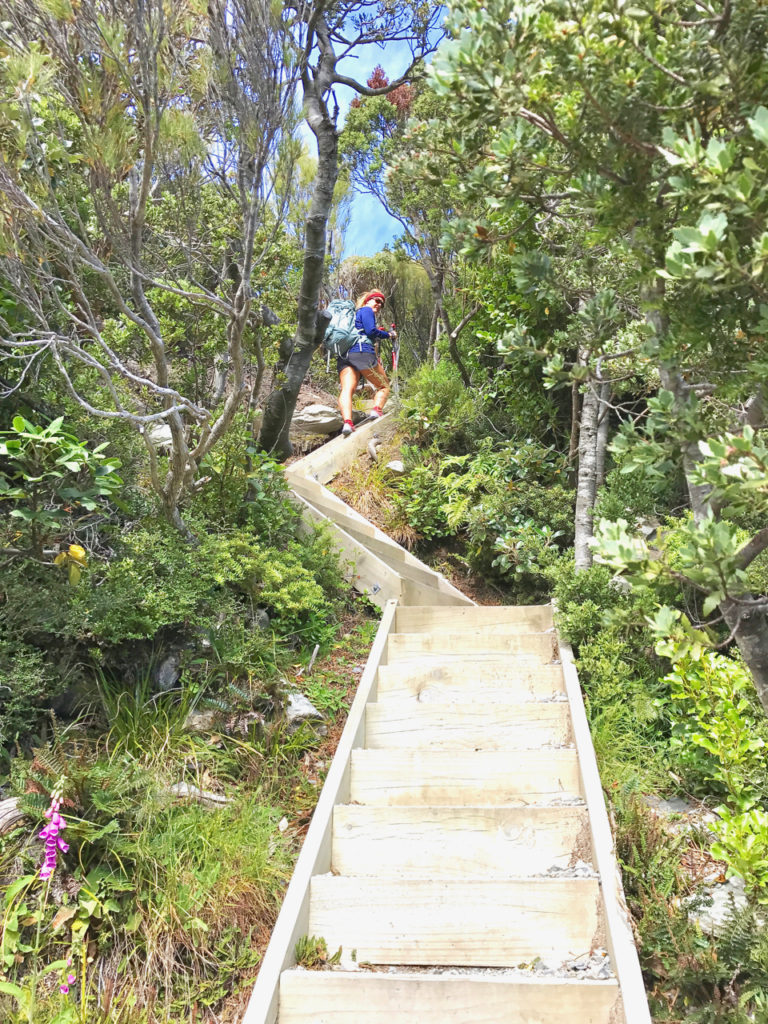 Daypacks
In each of our daypacks, we carried: cell phones/cameras, sunscreen, two liters of water, TME Bars, GU Gels, peanut butter and jelly sandwiches for lunch, wetwipes, waterproof pants, jacket and a long sleeve shirt. We also packed a little survival kit (just in case) which included an emergency bivy, headlamp, knife, ferro rod, lighter, hexamine fuel cells, paracord, compass, electrolytes and Chapstick. As always, we also had duct tape wrapped around our trekking poles – you never know when you'll need duct tape.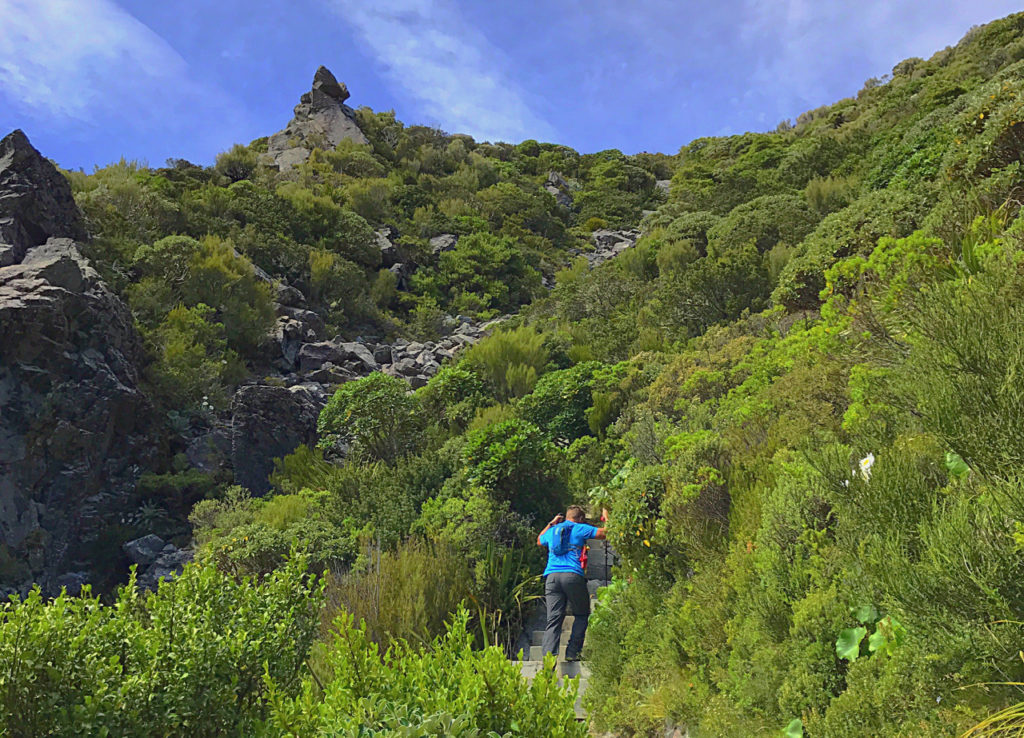 Kea Point Trail to Sealy Tarns (Half-way Point)
It is a steep ascent, up a series of switchback stairs, all 2,000 of them, through shrubs and trees, from Kea Point Trail (2,789 ft./850 m) to Sealy Tarns (4,265 ft./1,300 m). This part of the route reminded me of climbing the thigh crushing Manitou Incline in Colorado.
My heart raced, trying to find a rhythm on the stairs. I'm not a morning person. My partner, Ralph, went a little faster than me and that was just fine. We kept each other in sight and reached the natural half-way point at Sealy Tarns in about an hour and 45 minutes.
A tarn is a small mountain lake. Sealy Tarns looks more like a pond on the side of a mountain. We sat by the tarn and took a short break to hydrate and have a snack. To the right was an imposing, bigger, snow covered mountain and behind us, Hooker Valley. Breathtaking views. We could see Mt. Cook, the Tasman Glacier, its lake and all the way to the northern tip of turquoise colored Lake Pukaki.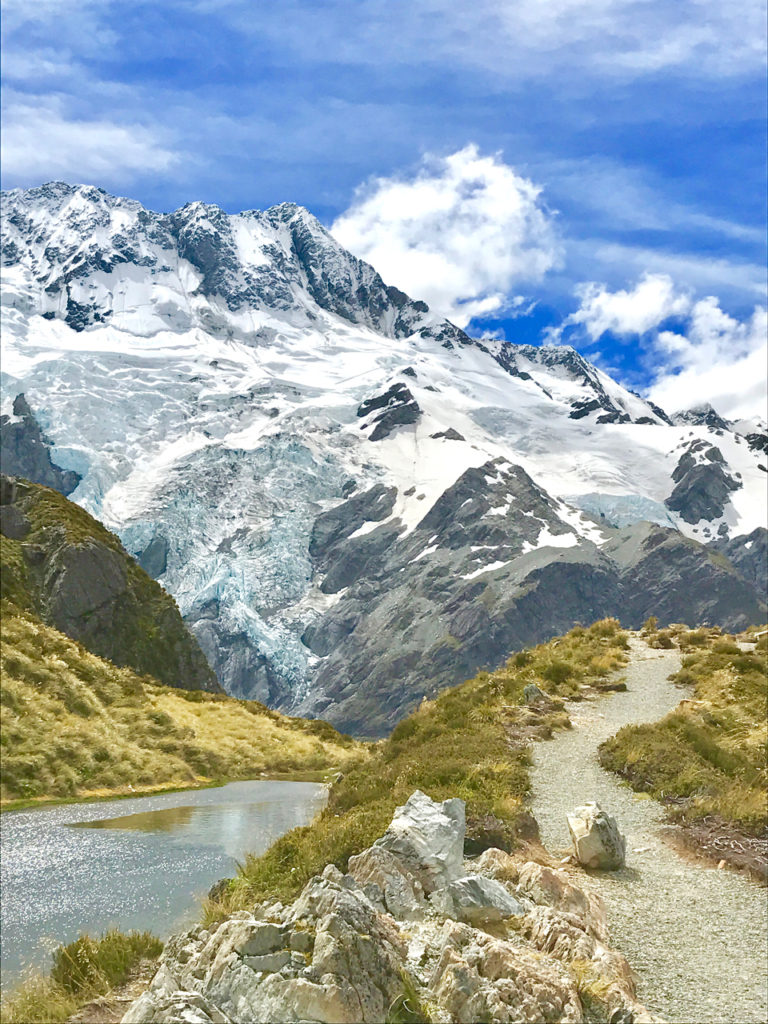 Sealy Tarns to Mueller Hut
After leaving Sealy Tarns, we followed the trail sign to the left and continued our climb. Orange markers, set out every 600 feet, highlighted the way. The second-half was just as steep. We spent a lot of time looking down to secure footing. We clamored up rocks and patches of tussocks, scrambled over boulders and scree before reaching the windy skyline ridge.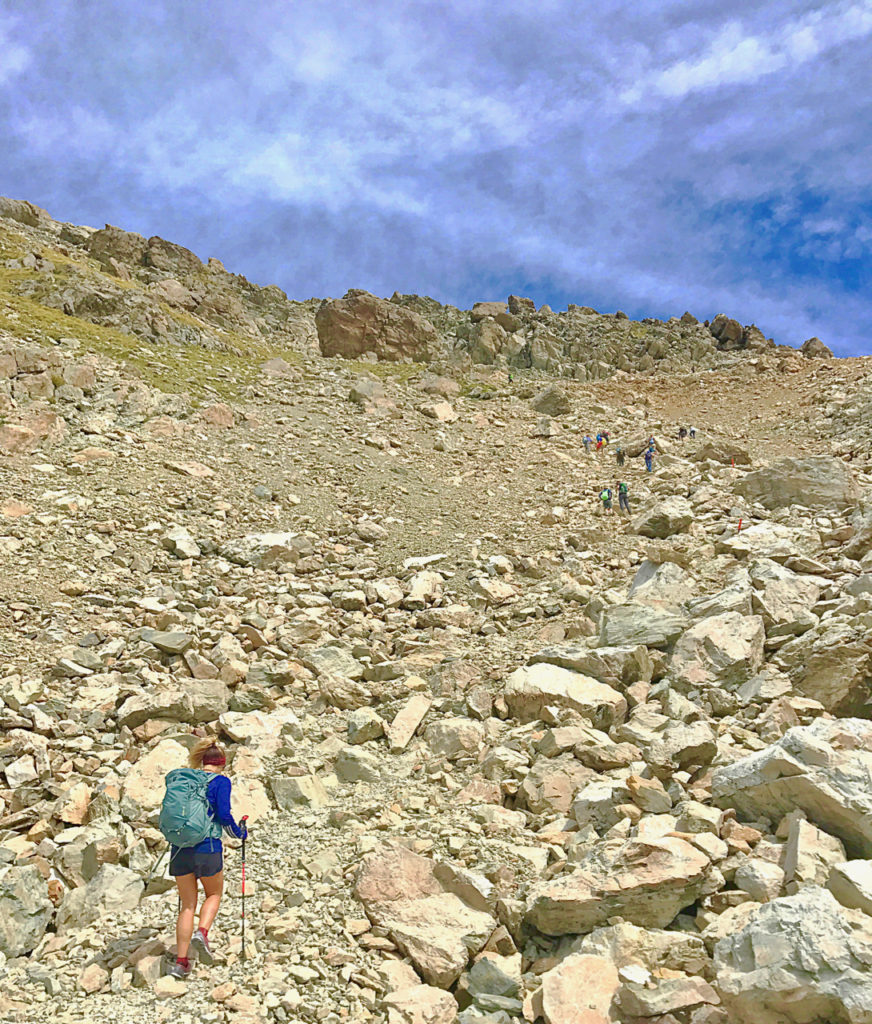 Relieved to have reached the top, we still couldn't see the hut. We continued to follow the orange markers south, or left, hopping on massive boulders. The wind gusts were brutal and random. Some over 50+mph, hit us up one side and down another. We were thankful for trekking poles. They helped keep our balance on the rocks and with the wind.
Finally, 15-minutes after reaching the ridgeline and scrambling across boulders, we saw Mueller Hut. Tiny in the distance. It took another 10-miuntes and trudging through a snow field, the size of a football field, to reach it.
From Kea Point Trail to Mueller Hut, it had taken us almost 3 hours.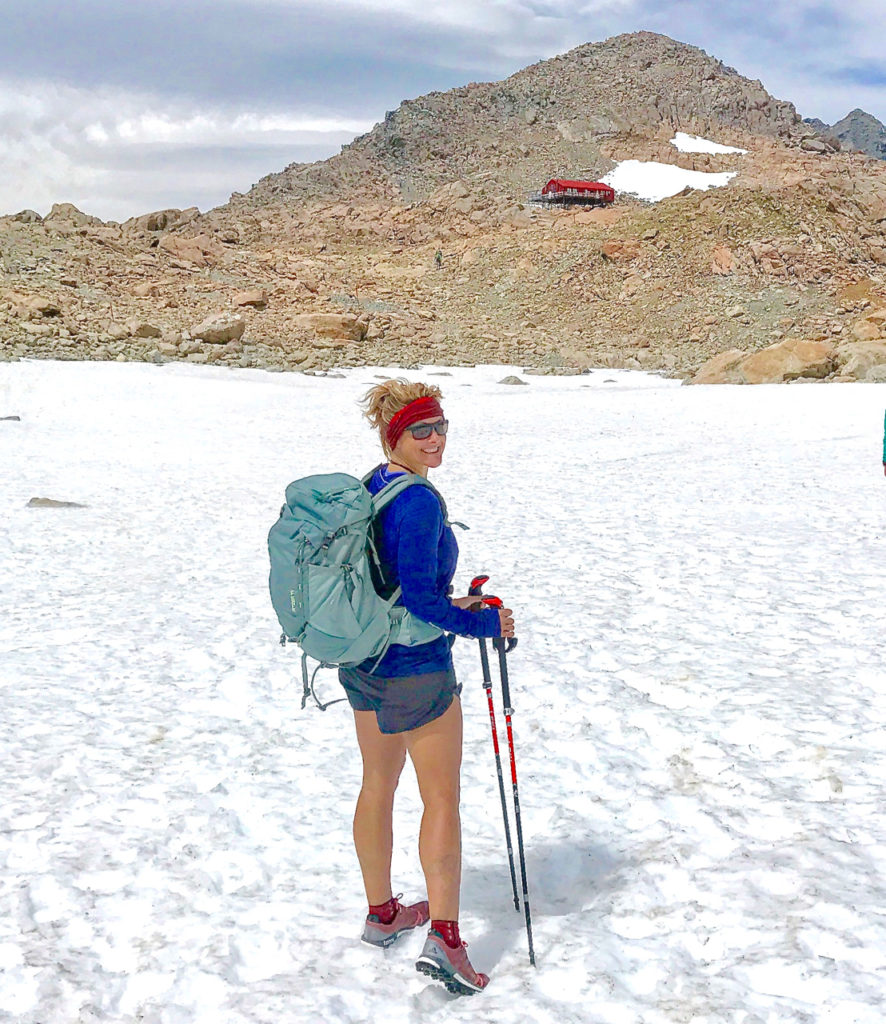 Mueller Hut
I heaved open one of the massive doors, trying not to let the wind wrench the handle from my grip. I closed the door, latch and looked around. We were in a small entrance way.  We took off our shoes, walked through another door and into a kitchen, dining area. It was warm and full of friendly hikers from all over the world. We sat down with our packs and dug out our peanut butter and jelly sandwiches. We refueled and looked out the large windows, enjoying the snow-covered mountain from inside.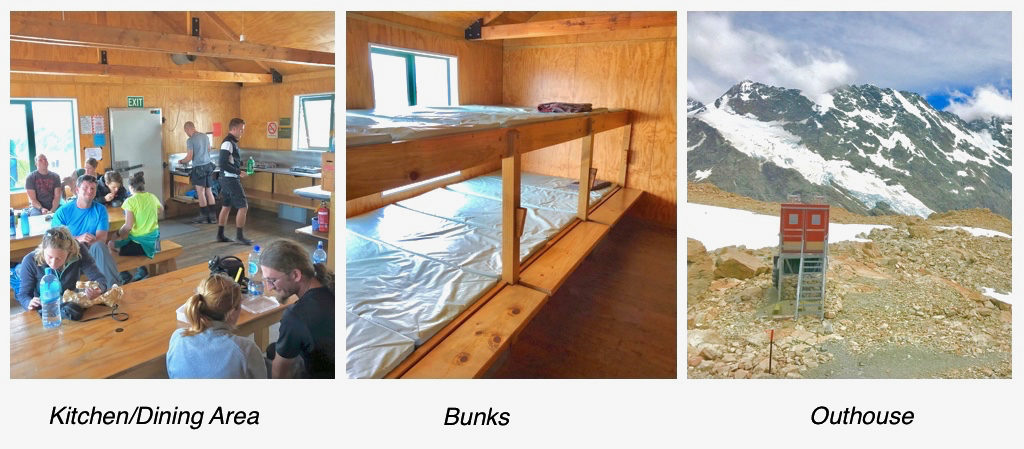 After thirty minutes, we were ready to head down. It was much colder up here and before we left, we layered up. I was glad I brought pants! They kept me warm and protected my butt scooting over loose scree on some of the steeper declines.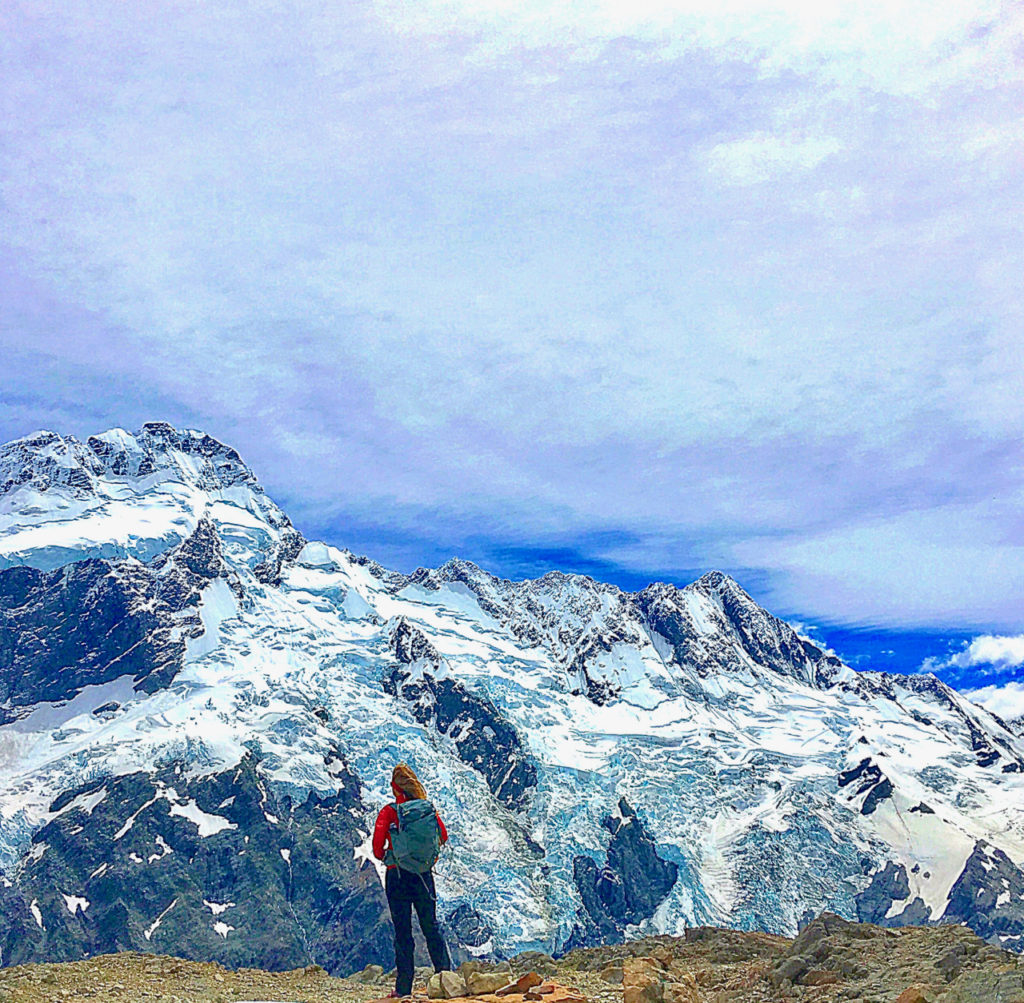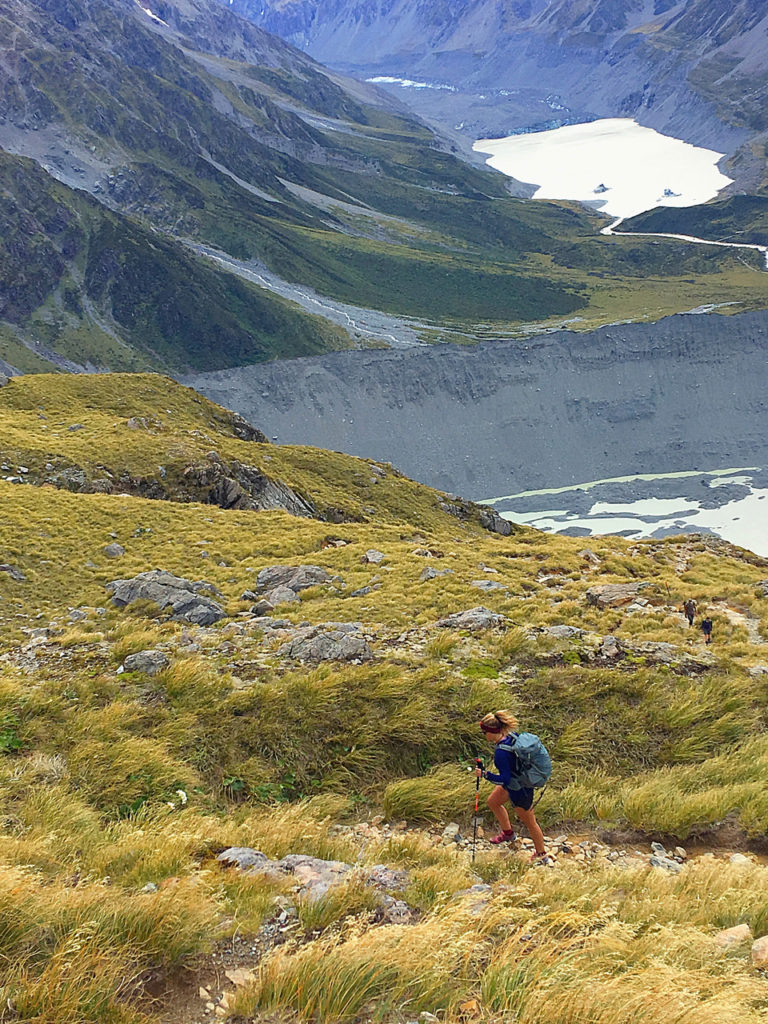 It took us two and a half hours to descend. We were tired and legs, a little wobbly, but we did it!
The Mueller Hut Route is a definite must if you ever make it to Mt. Cook National Park!
I wrote a few other blogs about our New Zealand adventures. Click below to read them.
16 Days of Adventures on New Zealand's South Island
Backpacking the Kepler Track in 2 Days