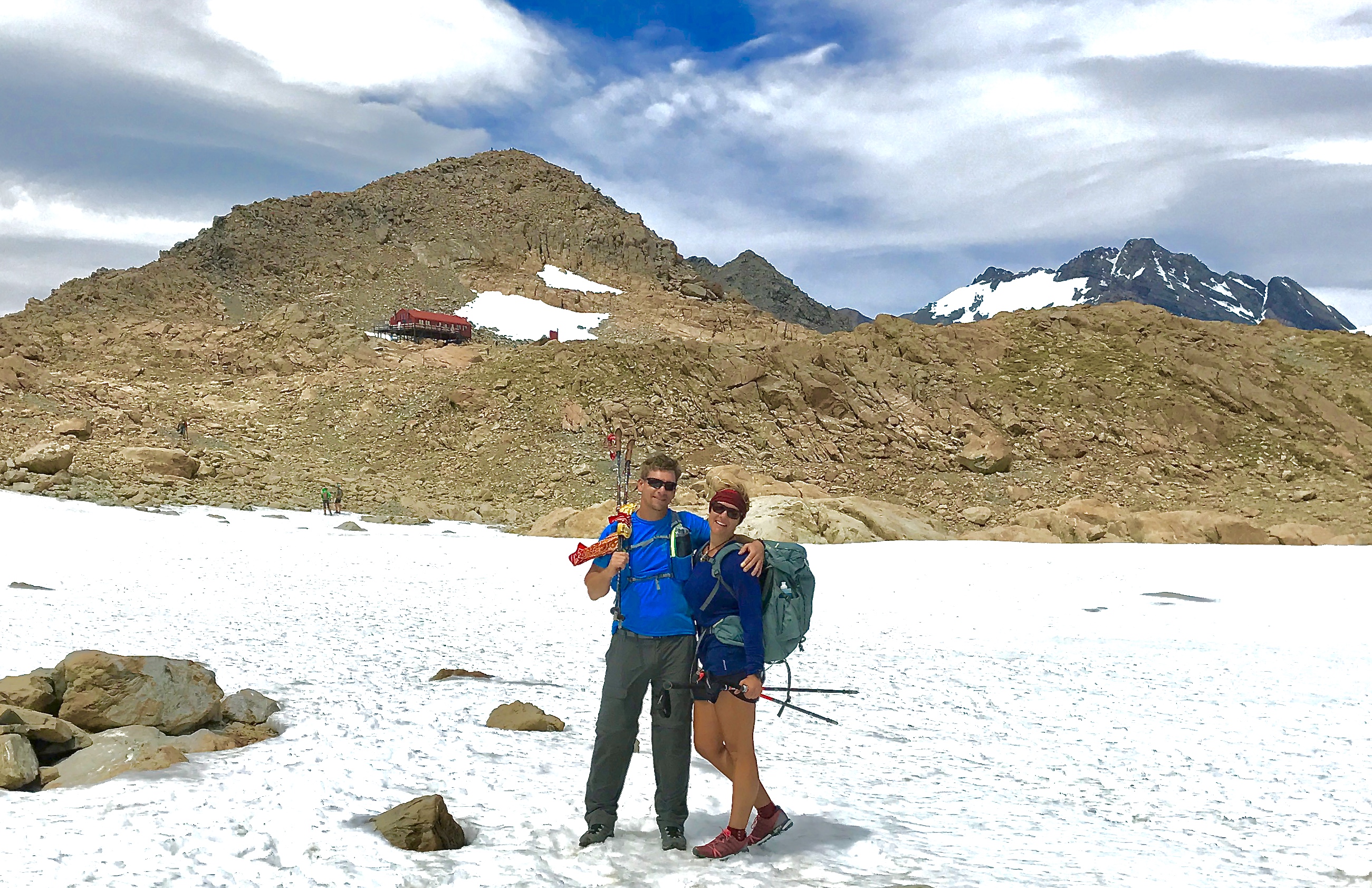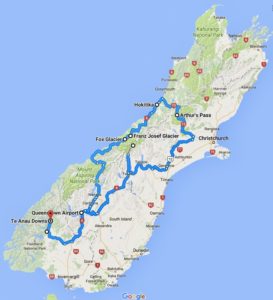 We wanted an active, New Zealand adventure and in February 2017, we spent sixteen days on the South Island. We hiked 10 different treks, over 110 miles, with 34,000 feet of elevation gains and losses.
We tramped in the Southern Alps, along Franz Josef Glacier and climbed to the summit of Avalanche Peak. We completed two of NZ's nine, famous hut-to-hut, Great Walks (Kepler and Milford Tracks) and strolled along the beaches of the Tasman Sea.
We drank wonderful New Zealand wine, ate lamb, venison pies, green mussels and these wonderful dessert cookies called, Tim Tams.
We drove a total of 1,300 miles, in a campervan, from Queenstown to Mt. Cook, Arthur's Pass, the West Coast and Fiordland National Park. We mastered driving on the left-hand side of the road, New Zealand's one lane bridges, roundabouts and windy roads.
I'm not gonna lie, planning this trip was challenging. Going in peak season, limited time, obtaining reservations and then once there, weather didn't always cooperate. That being said, it was a fun and exciting adventure!
To help others, wanting to travel to New Zealand, we put together a list of our best decisions, favorite, least favorite, biggest challenges, surprises, cool spots, over-rated and wish we would have… trip highlights. I've also written three additional blogs, with tips, on our experience trekking the Milford Track, Kepler Track & Mueller Hut Route.
My Blogs on Individual Hikes: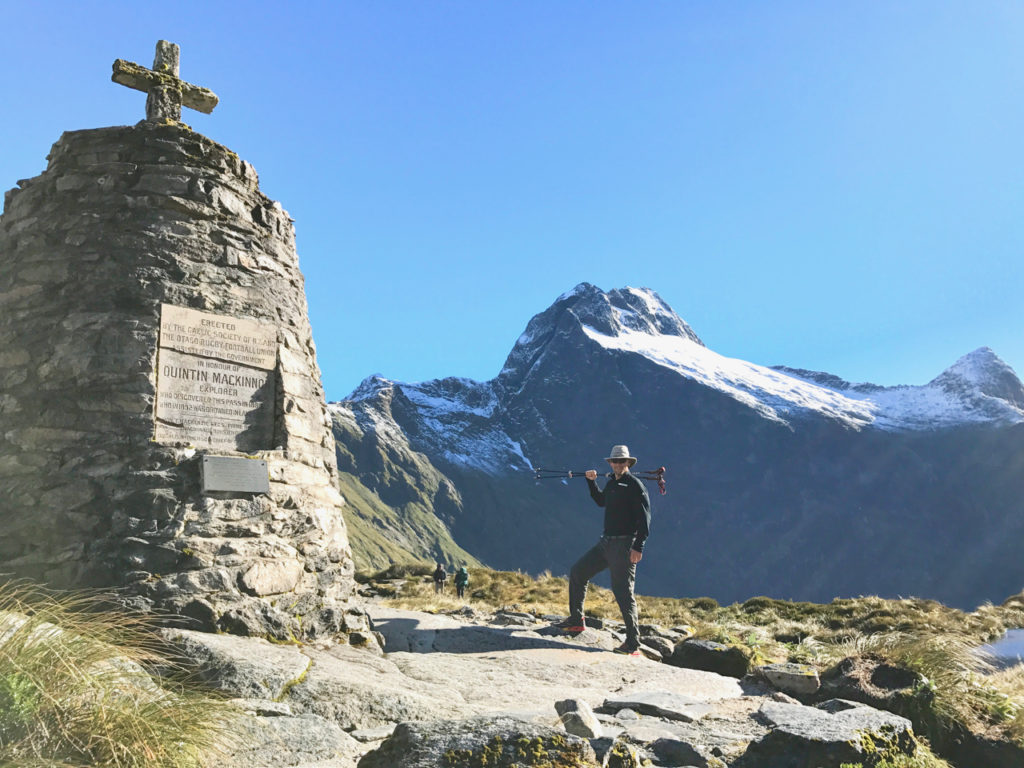 Best Decisions: EasyHike & Britz Campervan 
EASYHIKE is an adventure travel logistics company that helped us secure hard-to-get reservations on the Milford Track. EasyHike offers several Great Walk packages for travelers who don't want to stress over logistics, have proper clothing/gear or time to shop for food supplies. They can provide all these things. They saved us time, money and stress.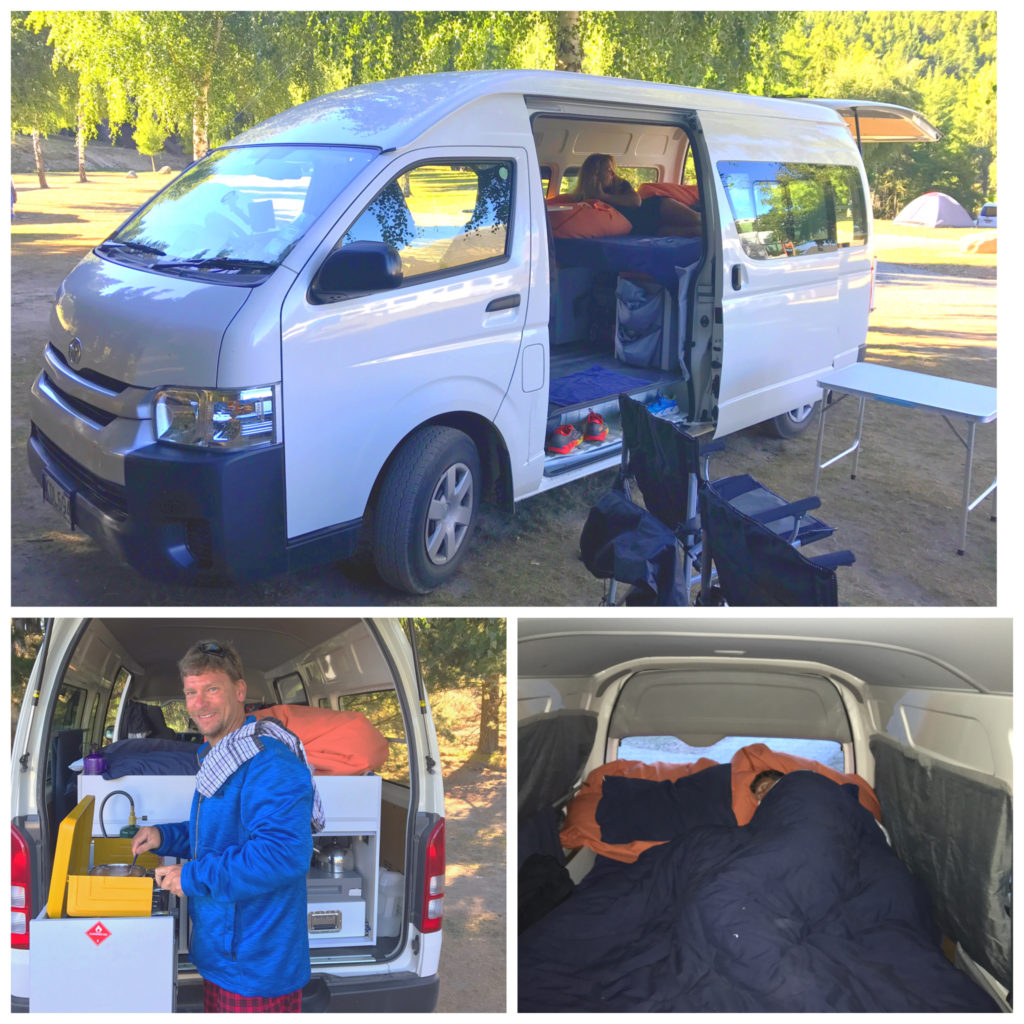 Rent a BRITZ CAMPERVAN! Staying in hotels every night is expensive and requires booking ahead of time. There were many cold, windy and rainy nights, tent camping would have been miserable. The campervan was easy to drive, roomy, had a comfy bed (linens provided) for two, a refrigerator, a little pull out gas stove and sink. We'd come back from hiking, make ourselves a little dinner, pour some wine and enjoy the sunsets.
Favorite Day Hike: Mueller Hut Route in Aoraki/Mt. Cook National ParkHands down, this trek was our favorite!
It is a scenic 6.5-mile, 6-8-hour round trip hike that takes you up and down 6,800 feet of elevation to a summit of 5,900 ft., where the bright red Mueller Hut sits alone, high among the rocks, boulders and snow fields in the Sealy Range of Aoraki/Mt. Cook National Park.
The panoramic views are spectacular; glaciers, lakes, ice cliffs and snow covered mountains, including Mt. Sefton and New Zealand's tallest, 12,316 ft. Mt. Cook.
Note: Most guide books recommend taking two days for this trek and spending the night at the hut. Limited on time, we easily did it in a day. Read my Mueller Hut Route Blog for more details!
Favorite Great Walk: Kepler Track 
The Kepler Track was my favorite of the two Great Walks. The other, the very popular Milford Track, had similar scenery, but none of the breathtaking ridgeline views that make the Kepler Track unique.
It is an easy trek to plan because it is a loop. Located in Fiordland National Park, the 37 mile/ 60km loop, with 8,900 ft./2,700 m elevation gains and losses, starts and finishes a few short miles outside the charming lakeside town of Te Anau. The hike is known for endless ridgelines and alpine views. It is traditionally done in 3-4 days, but if you are short on time and in good shape, it can be completed in 2-days. Read my Kepler Track Blog for more details!
Hardest Hike: Avalanche Peak Track 
Avalanche Peak Track in Arthur's Pass National Park is a steep, thigh-crushing, 6.2-mile loop trail (if going down via Scott's Track) to a 6,014-ft. summit with 7,000 ft. of elevation gains and losses. Once above the bush-line, a rugged ridge to the summit turns into a narrow scramble over sheer rocks and avoiding deadly drop-off cliffs.
The weather changes drastically, so be prepared. If you are in good shape and not afraid of heights, the panoramic views of the Southern Alps are worth the effort!
Biggest Challenge: Weather & Sandflies 
Apparently, it rains a lot in New Zealand – over 200-days a year in some South Island areas – and weather didn't always work with the itinerary. Due to low-cloud cover, our scheduled Heli-Ice Climbing Adventure on Fox Glacier was canceled.
Instead, we drove 25-minutes to Franz Josef Glacier. From the carpark, it is an easy 3.5 mile round-trip, primordial scenic trek to view the massive, icy blue glacier.
A close second, sandflies. Mark my words, they are worse than mosquitos! A sand-fly bite creates an insane itch and redness that lasts for days! Sandflies are everywhere and thrive in all types of weather. Beaches, mountains, hills, warm and cold. Don't bother with natural bug repellent. Go right for 100% Deet products. It's the only thing that keeps them at bay.
Biggest Surprise: 20 lb. Weight Loss!
Even with good eating and health, thanks to our active trip (trekking 110-miles and going up and down 34,000 ft.), my partner lost twenty pounds and I lost five. Yes, just five. Somethings in life are just not fair.
Cool Spots: Tasman Glacier, Lake Pukaki, Tasman Sea, Blue Pools & Franz Josef Glacier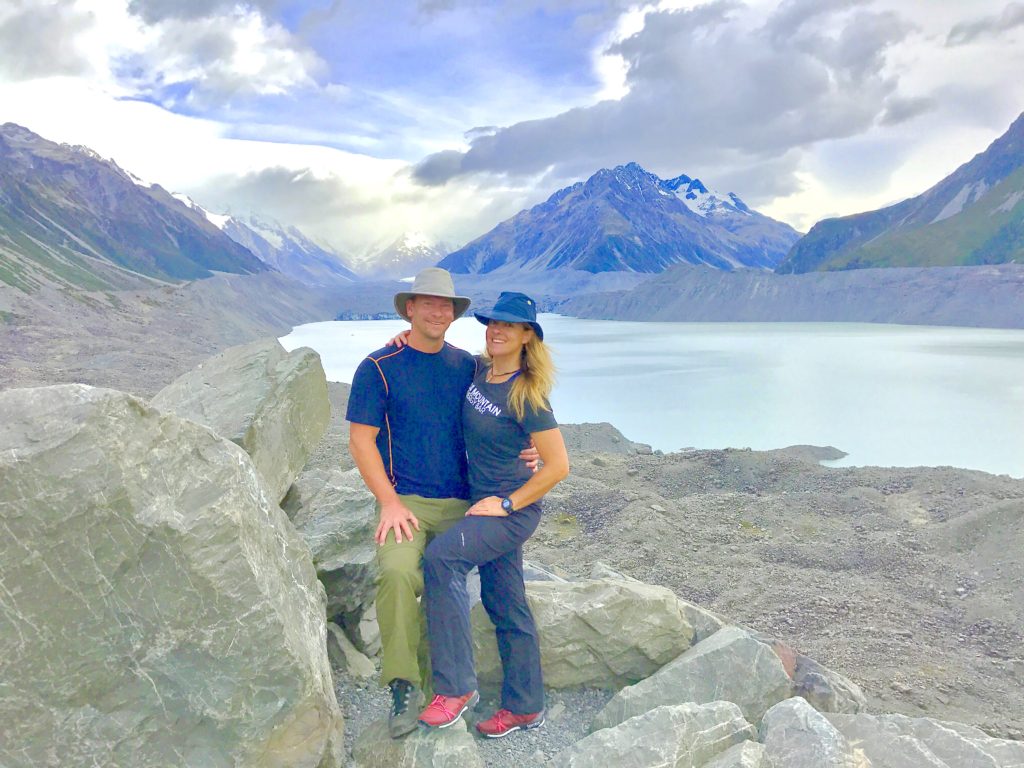 Tasman Glacier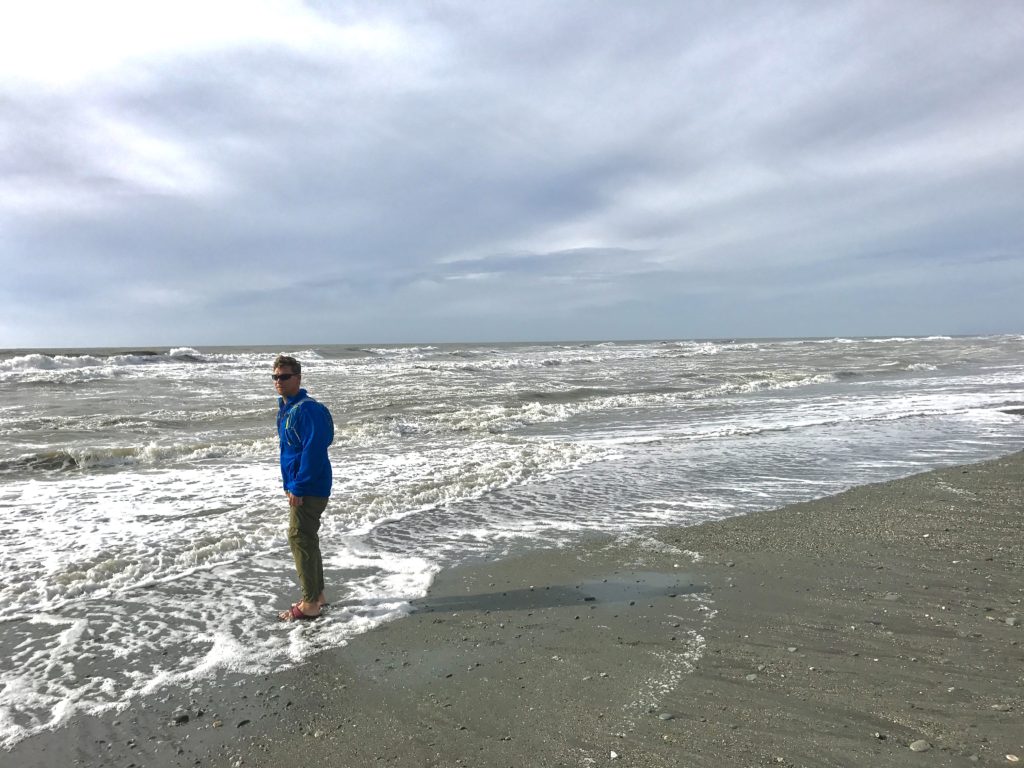 Tasman Sea
Over-Rated: Te Anau Glow Warm Caves
If you are in Te Anau, have nothing else to do and $80 to burn, take the ferry ride to this dark, damp, claustrophobic cave to see a bunch of pin-hole, Christmas lights-looking larvae.
Wish We Would Have: Gone Bungee Jumping
We stopped by the famous Kawarau Bridge our first day, on the way to Mt. Cook National Park, to see the bungee jumpers. Psyched to try it ourselves, we decided it was best to wait until our last day in NZ to do a jump. We didn't want to risk getting injured and ruin the entire trip.
Turns out, we didn't have time on our last day. C'est la vie!
By the Numbers: What We Hiked in NZ
| | | | | | | |
| --- | --- | --- | --- | --- | --- | --- |
| NZ: South Island Hikes | National Park | Distance (m) |  Elevation Gains/Loses (feet) |  Highest Point | Our Time | Advised Time |
| Mueller Hut Route | Mt. Cook | 6.5 |  6,824 |  5,900 (Mueller Hut) | 6 hrs | 6-8 hrs. |
| Ball Hut Route | Mt. Cook | 12 |  820 |  3,379 (Ball Hut) | 6 hrs. | 6-8 hrs. |
| Tasman Glacier View Walk | Mt. Cook | 1.5 |  656 | | 30 min. | 40 min. |
| Kea Point Walk | Mt. Cook | 3.7 |  1,181 | | 1 hr. | 1-2 hrs. |
| Hooker Valley Track | Mt. Cook | 6.2 |  525 | | 2.5 hrs. | 3-4 hrs. |
| Avalanche Peak | Arthur's Pass | 4 |  7,200 |  6,014 (summit) | 5:45 hrs. | 6-8 hrs. |
| Kepler Track | Fijordland | 37 |  9,126 |  4,600 (Luxmore Saddle) | 2 days | 3-4 days |
| Milford Track | Fijordland | 34 |  7,218 |  3,786 (MacKinnon Pass) | 4 days | 4 days |
| Franz Josepf Glacier | Westland Tai Poutini | 3.5 |  200 | | 1.5 hrs. | 1.5-2 hrs. |
| Lake Matherson | Westland Tai Poutini | 1.6 |  20 | | 45 min. | 1.5 hrs. |
| TOTALS | | 110 |  33,770 | | | |