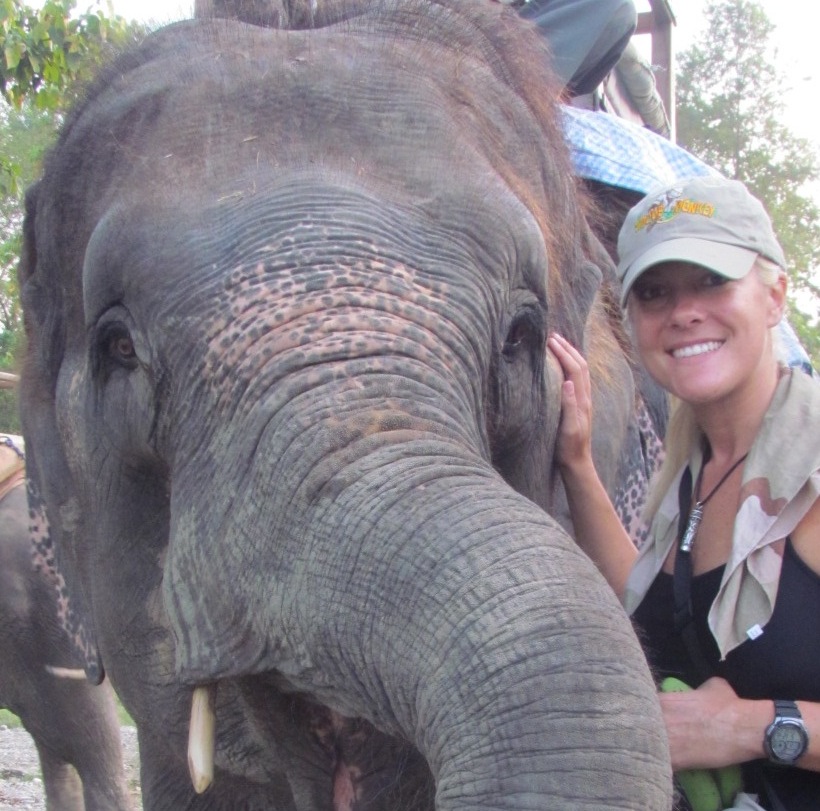 Who knew Nepal has jungles? I didn't…but on a safari in Chitwan National Park, standing 20 feet away from a resting rhino that soon stood up to charge us, I do now! Bonus was coming out of the jungle and having a 10 foot python stop us in our tracks.
Now, that all happened near the end of a 3 hour walking safari. Before that the guide was pointing out birds and deer. My inside voice was saying; "We have those in the U.S. Where are the tigers, sloths and rhino? I see more animal action running the jungle canopy trails near my sister's in FL." Our sweet guide was trying so hard and then we hit jackpot with the rhino. Those things are HUGE!
Chitwan National Park, the formal royal hunting grounds, was set aside for conservation in 1973. Here we are saying in huts on stilts at the rustic Maruni Sanctuary Lodge (no internet or air-conditioning).
At the communal eating area, I finally met my first Americans in over a week, Mike and Debbie from Washington D.C. They are part of another group, largely Australian and British, sharing the lodge. We conspired to see how we can get more American to travel outside of the Caribbean & Europe.
In the afternoon we went on another safari, this time riding elephants. We saw another rhino and lots of deer. I told the Brits that if I took pictures of deer and showed it to my friends back home they would laugh at me. I can hear them now…'Yeah Payge, you went all the way to Nepal to take pictures of an animal we have at home. Good job!"
Our last night in Chitwan was celebrated with performance by an Indian-Nepalese group who showed us stick dancing. Their encore included a dance around a circle. The audience was encouraged to participate… shockingly, I am rather shy when it comes to these things, I jumped in…and it was fun!
Tomorrow we are off to Pokhara, Nepal. I picture it being this backpacker town, at the base of the Himalaya, with lots of Americans and Europeans. We'll see soon!
Interested in going on an adventure of your own?  Go to: www.adventurecenter.com
My Delhi to Kathmandu Trip is through Adventure Center and their affiliate, U.K. based Exodus (<a href="http://www web link.exodus.co.uk/">www.exodus.co.uk/).