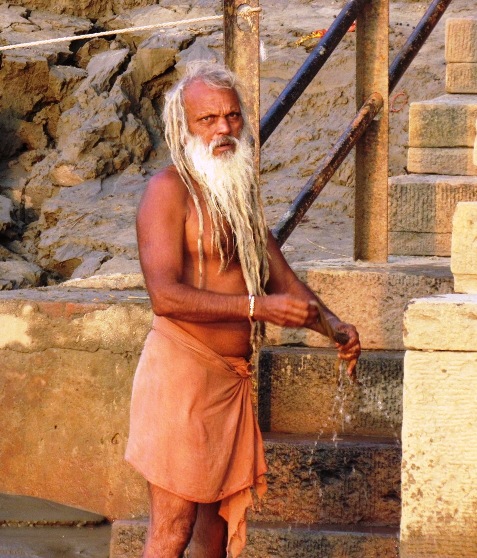 The Ganges is a sacred river and in Varanasi, India, and we saw it all…including a floating body.   Hindu pilgrims come to bathe in the Ghats.  They also dip their dead in it before wrapping them in white linen and then cremating them in a pyre (bonfire) on the riverbank.  I must admit, seeing legs sticking out of one of the many bonfires was a little different.  No judgment…just different witnessing a cremation out in the open.
What was more disconcerting was the floating body we saw.  Apparently, if someone died from small pox, leprosy or a snake bite, they can't be cremated.  It is believed their brains will explode in the fire and projectile fluid could infect those surrounding.   So instead, they will just dump the bodies in the sacred, brown waters!  Ewwwww! Yup, I was not going swimming here.
I did like the Aarti on the Ganges. It is an hour long, rooftop ceremony at sunset, watched by thousands from the riverboats.  Seven Brahman Priests perform a blessing swinging incense, chanting and singing, including a song with choirs, "Hari Krishna".  It was hypnotic and enchanting.
The next day, from Varanasi we took a bumpy 13 hour bus trip to the Nepal boarder.  Our itinerary said it would take 10 hours, but Avtar wanted to show us a little, remote village.  They don't see many white people and serve great chai tea.  The village people were so sweet. Smiling children and women followed us as we toured their humble abodes.   We even met the mayor.
It was 7pm and dark before we reached the boarder.
We drove another hour to Lumbini and spent the night in a hotel where the next morning we would see the birth place of Buddha.