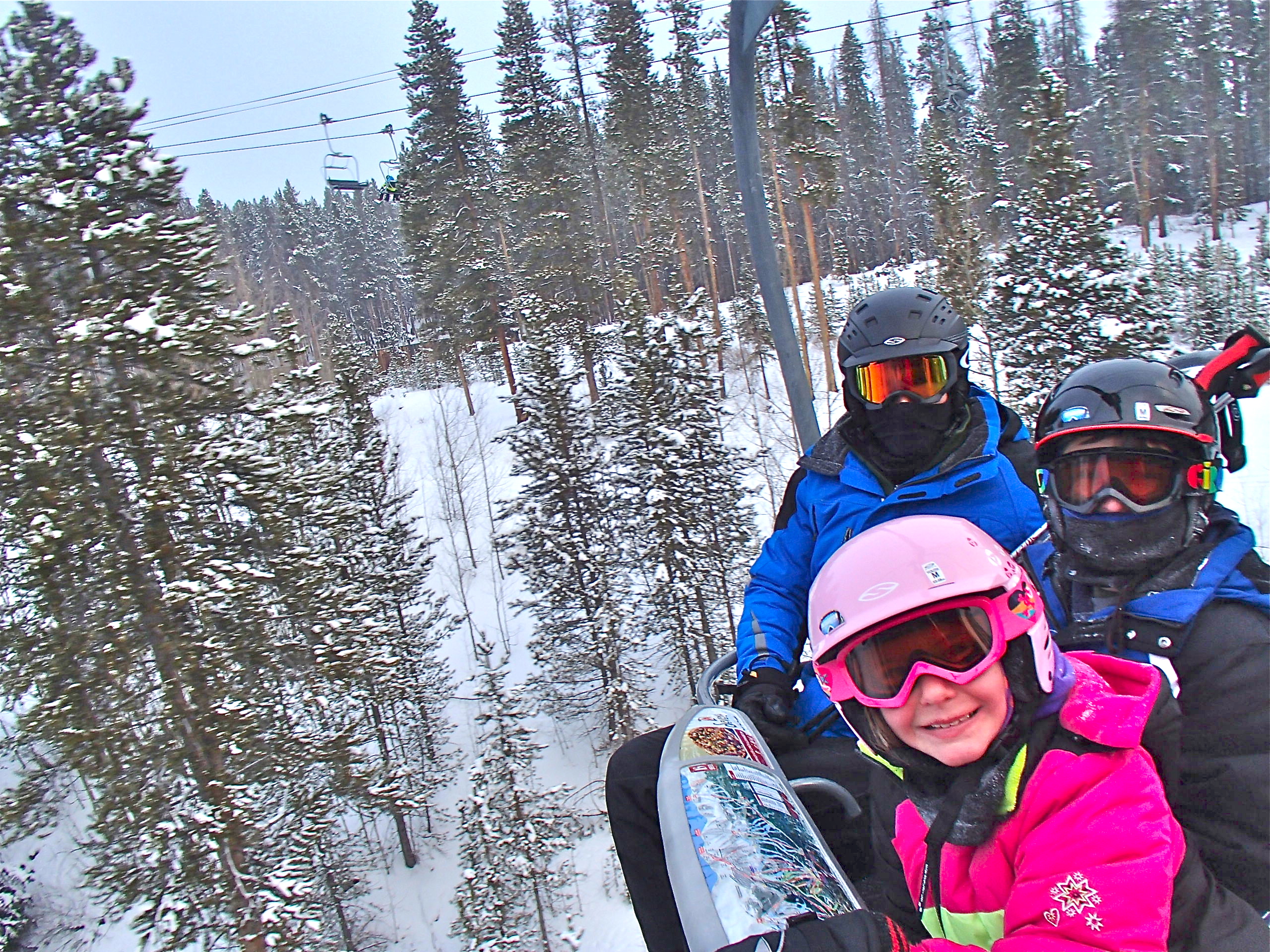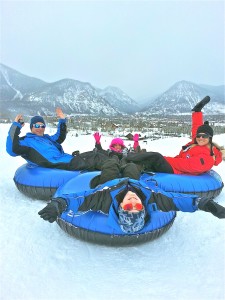 A Winter Family Adventure in Breckenridge was written by Payge McMahon for National Geographic Adventure (originally published by NGA in 2014)
The best way to get kids outside, and encourage their sense of adventure, is to go with them. No adventure is too small if it awakens something within.
Introducing a child to the world of adventure is one of the most rewarding things one can do.  As someone who has hiked, biked, skied, and climbed all over the world, I can sometimes forget what that "first time" feels like. But, when you introduce new experiences to the next generation, you open up their world, and through their eyes, get to see it all again.
A friend and I took his eight-year-old daughter, Callie, and 12-year-old son, Jeff, on a winter adventure trip across the country to Colorado. They had grown up in the Southeast and had never been around much snow, so what better place to take them than the fun-filled, family adventure town of Breckenridge.
The town of Breckenridge, Colorado, sits at an elevation of 9,600 feet (2926 m) and has more than 200 restaurants, bars, and shops. Originally a gold mining town, named after a U.S. vice president in 1859, it went through its boom and then bust and by 1870 had become mostly a ghost town. That is until 1961 when the first ski resort opened.
Today, Breckenridge has transformed into a favorite ski resort destination and focuses on family adventures.  In and around "Breck" you can go snow tubing, dog sledding, snowmobiling, snow shoeing, ice skating, cross-country skiing, ride a winter roller coaster, visit the children's museum and hop on a mining tour.
In Denver, we rented a car and drove two hours west on Route 70 to Breckenridge. Callie and Jeff were mesmerized by each passing mountain. Colorado has 54 peaks over 14,000 feet (4,267 meters) in elevation, twice as high as the tallest mountain found east of the Mississippi, 6,684 foot (2,037 meters) Mt. Mitchell in North Carolina, and any they had ever seen.
We arrived at our hotel, The DoubleTree by Hilton Breckenridge and were welcomed by a friendly staff, warm fireplace in the lobby and cookies—a bonus for the kids. Located across the street from Peak 9, The DoubleTree has free shuttle service to and from anywhere in town, complimentary ski valet, ski school pick-up, and conveniently, inside the hotel, Breck Sports – Ski & Snowboard Rentals.  The well-stocked store carries a plethora of brand options—Nordica, Lange, Dynastar, Burton, Salomon, Atomic, Marker, Leki, and Rossignol. The kids, bouncing with excitement, couldn't wait to gear-up.  Breck Sports manager, Max, was very helpful.  After asking them what their skiing experience level was (none) and getting their weight, height, and foot measurements, he hooked the kids up with skis and boots. Jeff and Callie were now ready for ski school!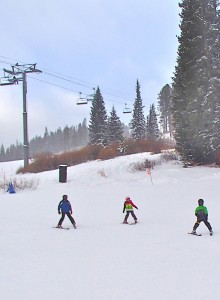 One of the really great things about Breckenridge is their world-class Ski & Ride School for kids, adults and adaptive learning for people with disabilities and/or special needs. We took the complimentary shuttle over to Peak 9 and registered the kids for school. The cheerful instructors were engaging and you could tell they loved what they did. With the kids in school, the experienced 'adults' had some free time to play.
Over the long weekend, we crisscrossed all over the mountain from intermediate to black diamond runs. On 3,000 acres, there are five peaks with 187 trails, including new intermediate above the tree-line runs, a 22-foot Superpipe, 11 bowls and plenty of double black diamond and extreme skiing options for the experts. There is also the highest chairlift in North America, the Imperial Express Superchair on Peak 8. It begins at 11,901 feet (3,627 meters) and ends at 12,840 feet (3,914 meters).
Jeff and Callie spent two days in ski school and had a blast. They liked being around other kids and the instructors. They received report cards listing the things they had mastered and next steps. We picked them up in the afternoons and skied with them the rest of the day. They couldn't wait to show us what they had learned. By the end of the trip, they were both on intermediate runs.
We tried to do as much as we could in our long weekend in Breckenridge. In addition to skiing, we took the kids snow tubing at Frisco Adventure Park and rode the Gold Runner Alpine Coaster through the forest on Peak 8.
At night, we enjoyed many of the local restaurants including the famous Empire Burger and the family sports bar with arcade, Downstairs at Eric's.  One evening, after dinner, we adults went to the Breckenridge Distillery, the highest distillery in North America, for a behind-the-scenes tour and hands-on bourbon bottling experience.  Most nights though, the kids, still full of energy, played in the hotel's indoor pool and then joined us for a soak in the outdoor hot tubs.
They can't wait to go back to Breckenridge for more skiing and adventures. Callie says she wants to try dogsledding next time and work her way onto black diamond trails. At 12, Jeff has now decided Colorado would be a great place to go to college and that would be just fine with his dad.
There is nothing more rewarding than introducing and sharing the world of adventure with our youth. Create interest and memories that will last a lifetime. Who knows where and what they will do in the future? One of them might ski across the South Pole or become a competitive musher and enter the Iditarod Sled Dog Race in Alaska. The possibilities are endless!