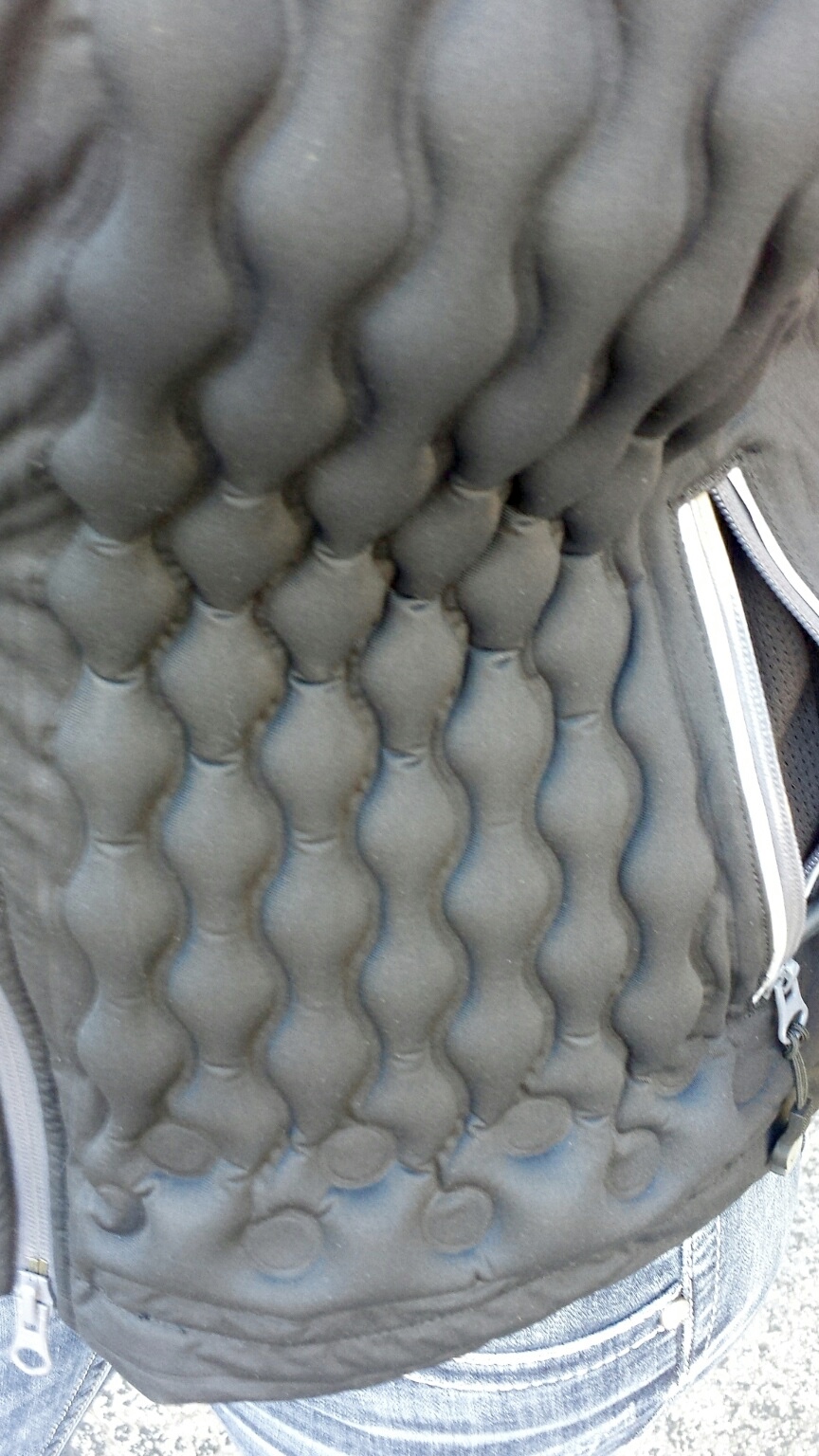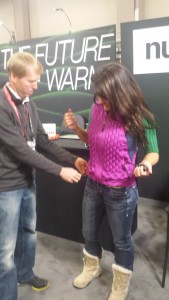 Overview
The next generation of insulating, technical performance outerwear has arrived. Move over down, wool, synthetic and polar fleece… NuDown's patent pending technology is here and all you need is air.
Ever go skiing, backpacking, hiking, running or do anything outside where you needed to bring an extra layer in case the temperature dropped?
Well, life gets a little easier with NuDown's self-regulating, air-insulating vest. Add as much as 30ºF of blissful warmth by squeezing a plum-sized pump that fits neatly into one of the vest's pockets. Getting too warm? Turn the release valve and cool down.
No more stopping to layer or un-layer. Before walking out that door or tent, put on a base layer and a NuDown outdoor vest or jacket and go!
** Awarded the best CLO (Clothing Insulation Value) warmth-to-weight ratio in comparison to similar fit and function down jackets and vests by the Institute for Environmental Research  thermal research facility at Kansas State University **
Snapshot
Shell: 100% nylon with mechanical stretch with DWR
Fabric:50D 4-way stretch polyester shell & bamboo charcoal ultra wicking liner
Insulation in torso: NuTech™ inflation
Insulation in collar: Primaloft® Gold
Insert panels: Polartec® Windpro
Pockets & hem: inside stash pocket, silicone gripper elastic at hem
Zips: YKK waterproof
Includes:Dry Air Pump
Warranty:Limited Lifetime
3 color options (black, orchid and winter white)
Optional $19 argon inflator kit that fits onto pump to fill the vest with the inert gas, which traps heat even better than air.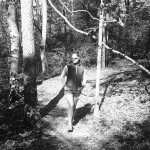 Field Functionality & Design Features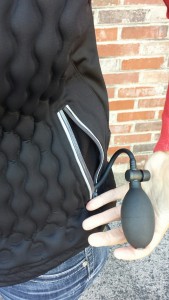 I tested NuDown's Mount Whitney Vest by skiing and hiking in weather that ranged from 65ºF to 20ºF. I was able to keep my core warm and cool down by simply pumping or twisting the release valve. When not in action, the jacket kept me toasty when sitting outside watching soccer and football games.
Similar to a SCUBA divers' BCD (buoyancy control device) vest, NuDown's technology uses naturally pumped air that inflates into the welded-chambers of the vest. The wearer regulates the amount of insulation with the small hand pump stored in the outer left pocket.
According to NuDown, for every squeeze of the pump, insulation will increase by 1˚F. Additional pumps can add up to 30ºF of blissful warmth. I had to pump a little more than 30 times to fully inflate the vest, but it was worth the added heat.
When it dropped below freezing, I was thankful for the double-slider, water-resistant, rubberized zipper and high collar that trapped in heat. The Polartech stretch nylon outer layer protected me from the cold winds. Combined with the breathable, moisture-wicking liner, I managed to stay dry, even when climbing up hills or skiing down mountains.
NuDown's durability is pretty impressive. I fell onto a branch when skiing around a tree on a double black diamond. I was fine and so was the vest. I thought for sure a sharp twig would have punctured it, but no. The 50D 4-way stretch polyester shell didn't rip and the air chambers stayed firm.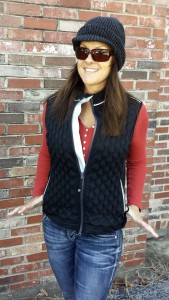 As for fit, I liked the feel of the fully inflated vest. It hugs the body and strangely, made me feel safer. No, it did not look like I had put on an inflatable life vest and was ready to jump off a boat. As a female, it hugged my curves and I like that.
Pros
On demand insulation
Less layers needed
Less packing
Cons
If the pump breaks, insulation is compromised.
When the vest is inflated, the little hand-pump, stored in the outer pocket, is gently felt against the abdomen.
Expensive
Company
Based in Reno, NV, NuDown was founded by entrepreneur Jeff Pickett, CEO/founder of the Connor Group in Silicon Valley. The CEO is Robert Hall, a 40-year veteran of the ski and outdoor sports industries. NuDown collaborated with experienced apparel designers, Julie Ringler and Kimi Davies-Rice, who together worked at Patagonia for more than 30 years.