Overview
The WindPouch Go inflatable hammock is a convenient and fun outdoor 'lounge chair' that you can bring anywhere. Great for the beach, mountains, backyard or watching a kid's softball game at the park.
Pros
Super easy to inflate when there is wind
Comfortable
Cons
If there is no wind, you'll have to run around to scoop air into the bag.
Snap Shot
Material – Hex-RS™ hexagonal nylon ripstop shell
WindLock™ Technology with buckle creates a leak resistant seal
Retains air for up to 6 – 8 hours
Water-repellant
Weight – 3.1 lbs.
Supports Weight up to 550 lbs.
Product Length – 96 in.
Price – $79.99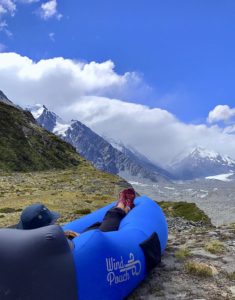 Field Functionality & Design Features
The WindPouch Go is a handy accessory to keep in the trunk of your car or carry in a backpack, as long as you don't mind the 3.1 lbs.
Our backs thanked us for relaxing in the WindPouch Go, when taking a break, during long day hikes in New Zealand and kayaking around the Fijian islands. It was much nicer and more comfortable to lounge in the WindPouch than sit on the ground.
It is also way more enjoyable to watch a kid's softball game at the local park when lounging in the hammock versus sitting on bleachers. We are pretty sure the other fans and parents were envious of our new toy.
The nylon ripstop material is durable and holds up well on sand, dirt, grass and small stones. We were careful to clear any area from possible puncturing objects, like sharp sticks and rocks.
As long as there is wind, it is super easy to inflate and takes less than 20 seconds (we timed it!). If there is little to no wind, you'll get some exercise running back and forth, and sometimes in circles, trying to inflate it.
Much like a compression sack, once you capture the air, sealing the two opening, roll down and lock the ends together with the buckle. It holds its shape well for hours. It does slowly deflate, so if you want to maintain firmness, you will have to re-roll or re-inflate the hammock as needed.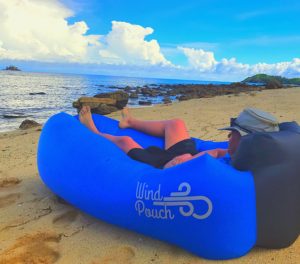 Company
WindPouch makes premium inflatable ground hammocks. It was founded in 2015 by George Yu with headquarters in Atlanta, GA. The product is made in China.