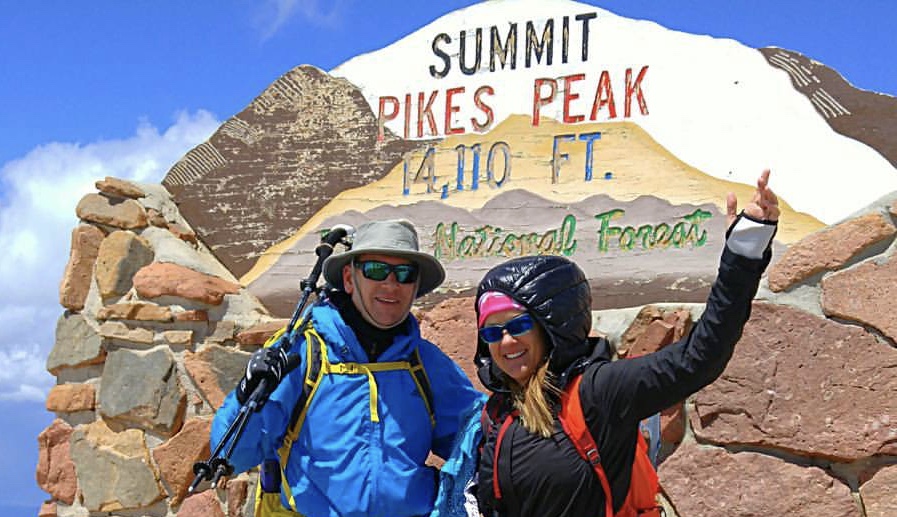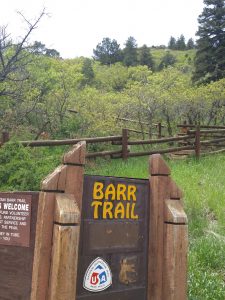 Trip Report
My partner and I climbed Pikes Peak (14,110 ft.), via the Barr Trail (7,800 ft)l, a week before Memorial Day. 26 miles RT. Temps ranged from 78F to 27F (felt like 13F w/ 21 MPH wind chill) at summit. This was RG's 1st 14er, my 13th.
Backpack Contents: Each of our packs ( mine, a Thule Stir 35 and RG's a Thule Versant 60) carried 2L of bottled water, extra layers, socks, gloves, hats, MSR snowshoes, Yaktraks, sleeping bags and liners, bandanas, flip flops for camp, necessities like toothbrushes, toothpaste, sunscreen, lip balm, an emergency kit including space blanket, Bic lighter, knife, Ferro rod, hexamine fuel cells, para-cord, Mountain House dehydrated dinners, stainless steal cup for cooking, tortillas, Pop Tarts, Honey Stinger chews, gels and Taos Mountain Energy Bars.
Day 1: Barr Trailhead to Barr Camp – 6.8 Miles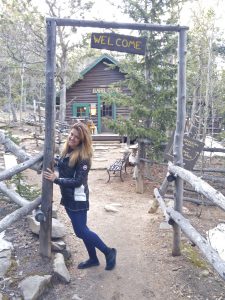 The Barr Trailhead parking lot ($10 a day) was full. We opted for free parking, a mile away, down by the Manitou Springs courthouse. The free shuttle bus (comes every 15 minutes) and took us to the trailhead. It was easy and I highly recommend it!
It was in the 70's when we started. The first 2.5 miles are a little steep with lots of switchbacks and people, most coming down the Barr Trail after climbing the Manitou Incline which parallels it. It was much nicer after passing the intersecting Incline trail as we rarely saw anyone else.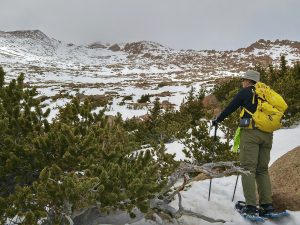 It is an easy trail to follow and beautiful. We started seeing patches of snow a half-mile before Barr Camp (10,200 feet).
The 6.8 miles from the trailhead to to Barr Camp (10,200 ft.) usually takes people between 4-6 hours. We took our time and enjoyed several breaks. For us, it took 4.5 hours.  We started seeing snow a half-mile before camp.
We spent the night in the bunkhouse ($33/night per person and includes breakfast). No electricity or heat. If we wanted the spaghetti dinner with garlic bread, it was $10 a person. We brought our own dinner.  There are other options for staying at Barr Camp, you could stay in a Lean-to, which has waterproof mattresses for $20/night and looked really cozy, or camp at the site for $12/night.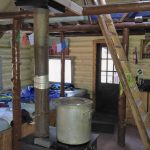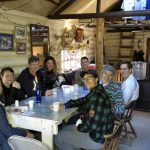 We met other hikers in the lounge, dining area. Two brothers hiking together, an Aunt and her nephew, two buddies and a married couple. Ages ranged from 18 – 60 you could try this out. It was nice to hear other peoples stories and we even played one of the many games on hand at Barr Camp, Bananagrams. Some stayed in the bunkhouse, others in the Lean-to and some camped.
Day 2: Barr Camp to Summit to Barr Trailhead – 19 Miles
We slept well in the bunkhouse. The mattresses were comfortable and our sleeping bags were warm. Temperatures dropped into the 30's that night. At breakfast the next morning everyone said they slept well. Barr Camp served pancakes with a choice of coffee or hot chocolate.
We started the last 6.5 mils to the summit, from Barr camp, around 8am. We left our sleeping bags and a few other items at Barr Camp to lighten our packs. We would get them on the way back.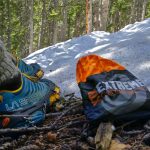 A mile past camp, snow patches increased until the route was completely snow covered climbing up to A-Frame (4 miles up from Barr Camp). We had to follow tracks as trail markers were covered by deep snow. We put on our Yaktrak XTR spikes, but if you didn't have any, and your shoes had good treads, you'd make it to A-Frame (2 miles below summit).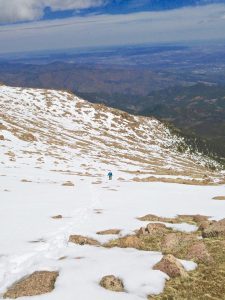 A 100 yards past A-Frame, we put on snowshoes as our feet began sinking into 4 feet of snow. Still wearing shorts, I knew it was also time to put on waterproof pants. The last mile was a steep, slow climb to summit. The wind kicked in and it got much colder. We layered up. Even a week before Memorial Day, I do not recommend attempting the summit without aggressive snowshoes and extra layers. The temperature dropped to 27F (13F with wind-chill), with 21 mph wind-gusts.
At the summit we devoured a hot bowl of chicken soup from the cafeteria and then made our way back down.
If you didn't want to hike down the Barr Trail, there are other options. Some hitchhike back to Manitou Springs with one of the many tourist who drive to the summit. You can take the Cog railway all the way down or part way, to Mountain View stop and hike the 1.5 back to the Barr Trail (it intersects a half mile below Barr Camp) and then hike the rest of the way to the trailhead.