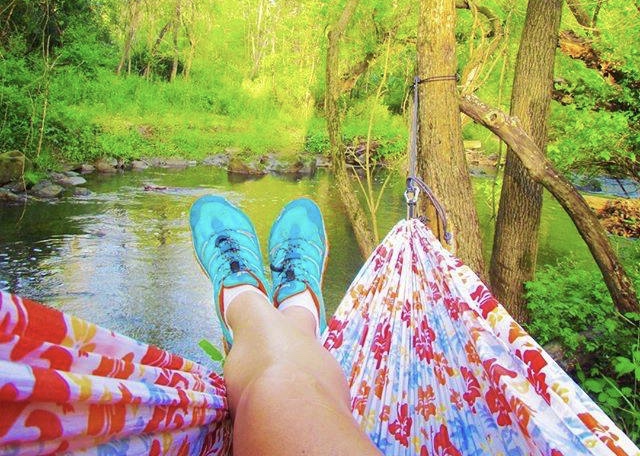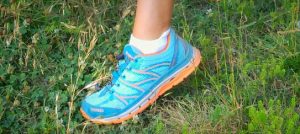 Overview
Treksta's Mega Wave is the cross-over, trail running shoe you've been waiting to wear.  Designed to support an active lifestyle, from running on trails, roads, sand and going to the gym, this comfortable, supportive, light-weight, durable shoe is a must have for on the go athletes.
Snap Shot
Speed-Lacing System with lace garage.
NestFit construction – contours to your foot's natural position. Reduces muscle fatigue.
Hyperfoam dual density – EVA midsole gives you a plush, cushioned ride
Stitch-less forefoot upper eliminates abrasion areas and provide a streamlined look.
Treksta's Heel Control provides complete cupping of the heel, thereby containing the foot to reduce heel movement and blisters
Hypergrip HGL 2-part outsole with IST for maximum grip and stability on a variety of terrain.
IST SOLE Technology – independently moving outsole lug components, adapts to uneven surfaces, creating perfect balance on any type of terrain.
Weight : 10.5 oz / 300g
6mm drop
Price: $125.00
Field Functionality and Design Features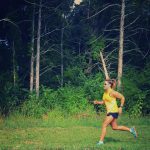 I ran over two-hundred miles on different terrains to test Treksta's Mega Wave high-cushioned, light-weight running shoe. I also cross-trained in them at the gym, performing squats, lunges and leg presses to see if they had universal functionality. They do!
I am not a minimalist running shoe kind of girl. I like high-cushioned shoes for distance running. Unlike other high-cushioned shoes that tend to wear uneven and the wearer has to over-correct foot imbalances, Treksta's Mega Wave keeps the foot even.
The sculpted midsoles and heel control kept my feet and weight balanced on the trails and at the gym. This is a key feature if you want a shoe that will help protect your ankles, knees, hips and back.
While Treksta classifies the MegaWave as a 'high-cushioned' shoe, compared to other brands, I'd say it is more of a 'mid-cushion' shoe. The shoe was comfortable and supported my feet at the gym and on 10K runs. Anything over 10K, I tended to feel pressure and a hot-spot developing on the balls of my feet. This could just be with me though, as I am forever working on optimizing my running mechanics.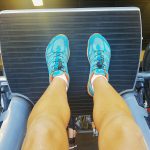 The Hypergrip HGL 2-part outsole is great for gripping at dirt trails, grass, sand and road.
Treksta's NestFit construction is very different then other running shoes. Its asymmetrical shape makes for a wider toe-box with a 'high-point' on the big toe area. The brand states that this design reduces pressure on the feet by 23% and the level of muscle fatigue by 31%.
I like the feel of the NestFit construction and the ability to move my toes a bit more. As for reducing pressure and fatigue, this is subjective and open to many variables.
Overall, I loved the universality of Treksta's MegaWave as a cross-training, running shoe.
Pros:
Super Comfortable
Keeps the foot balanced
Hypergrip traction is great on dirt trails, grass, sand and road
Cons:
Laces are too long
Hypergrip traction is not conducive for steep mountain scree or rocks.
Recommendations
Reduce length of shoe-lace
Add a little pocket on the shoe tongue to tuck in the lace garage.
Company 
Treksta's innovative hiking and running shoes and boots are distributed in the USA and Canada by Recreation Outfitters Inc. Visit Trekstausa.com to see the entire line up.  Treksta was founded in South Korea in 1988 under the name of Sungho Corporation Co., Ltd. It changed its name to Treksta Inc. in 1994 and is based in Busan, South Korea.