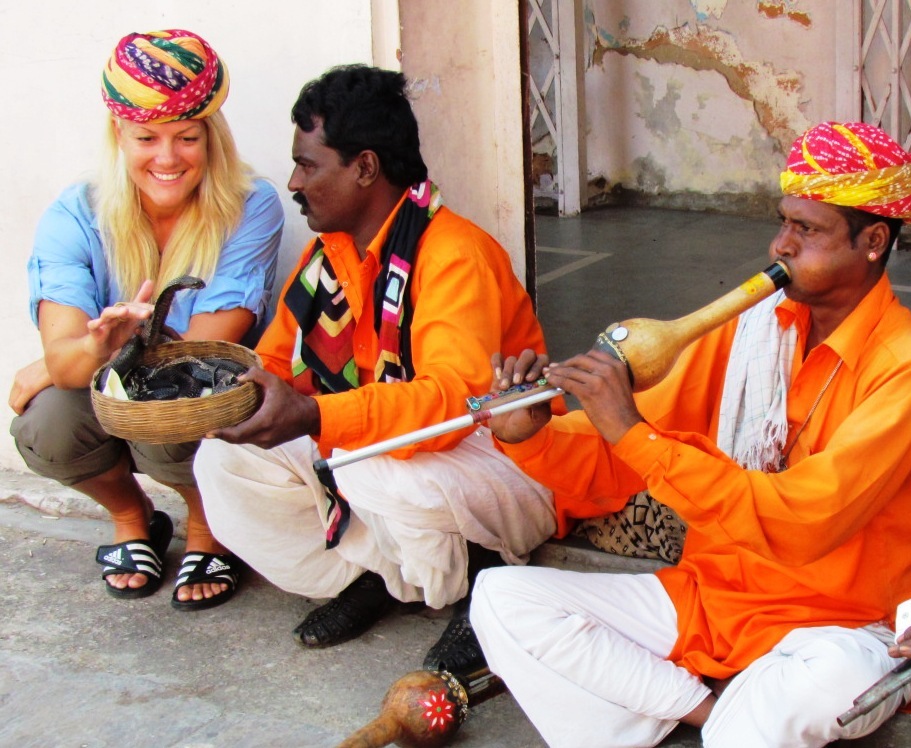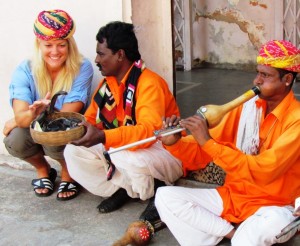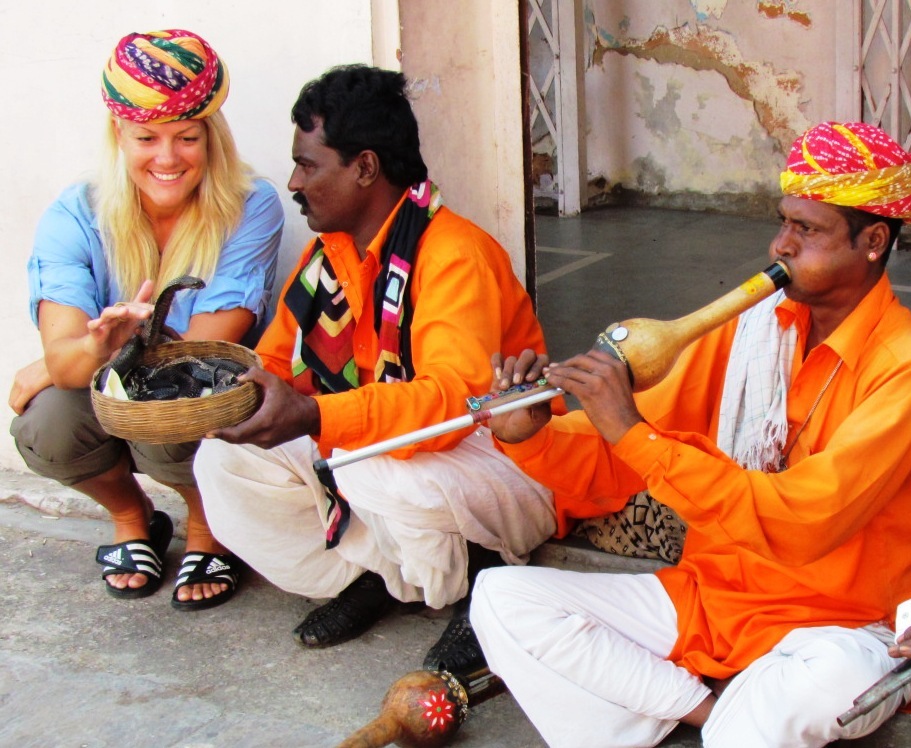 Eleanor Roosevelt once said, "do one thing each day that scares you."  I did just that in Jaipur yesterday.  I can now add 'Snake Charmer' to my resume of crazy $#*t that I'll try.  I sat with a snake charmer and pet a cobra! Sure, on the outside I was smiling but my inside voice was saying "nice snake…please don't bite me…nice snake…" Seriously, add it to your bucket list.  Its kind of a rush;-)
So Jaipur was full of interesting things. It is known as the pink city because in 1876 the Maharaja ordered the whole city painted pink to celebrate a visit by the Prince of Wales. It is colorful.  It is also known for its incredible carpet making and mustard.  We visited the Hawa Mahal, the Palace of the Wind, the City Palace where I hammed it up with a couple Rajastiani Palace Guards and then checked out the Jai Singh observatory.  It has the world's largest sun dial.  Its big!
Today we spent the day driving to Agra.  Along the way we stopped at a true Indian "Starbucks".  This dirty looking, roadside café (using that world loosely…you'll understand when you see the pictures) and had the best white chai tea and samosa.  It is a place all the locals go and I was glad Avtar, our guide takes us to these non-tourist places. It is true India. I even liked the bus that pulled up with 30 people on its roof and the camel and cart that drove by our tea stop.
We stopped at another little town and visited with Avtar's  2nd parents (as he calls them).  They live very simply and make pottery.  In the town is this amazing 9th century amphitheater that rivals others I have seen in other parts of the world.
This afternoon we saw the orange- red, sandstone Palace that Akbar built about  40 km from Agra.  It is called Fatehpur Sikri.  Lack of water drove everyone out after 15 years and the palace was abandon.
Speaking of water or food or something…3 people in our group of 13 came down with 'Delhi Belly' today.  I do hope it clears their system fast!  So far, so good for me (I'm knocking on wood).
Tomorrow we are up early to see the Taj Mahal at sunrise. I can't wait! In the evening we will board an overnight train to Varnasi.  I am sure that will be an interesting experience!