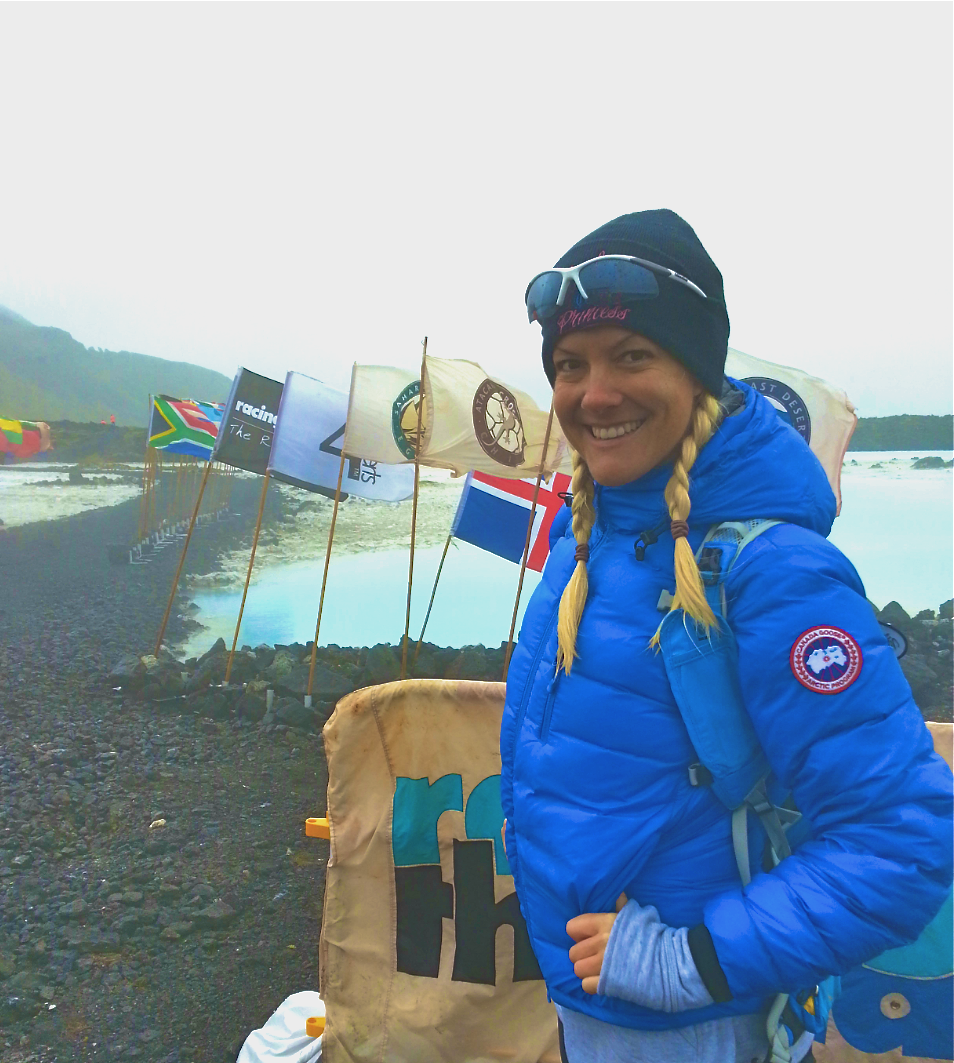 Starting in the highlands of Kerlingarfjöll (approximate altitude =  3,200 ft, / 1,000 m) between the Vatnajökull and Langjökull glaciers (about a four hour drive from the capital city of Reykjavik), 278 competitors (myself included), representing 52 different countries, will backpack all our own food and gear and race across this unique country.  We will finish on August 10th at the famous Blue Lagoon.
Iceland is located only 178 miles from Greenland, is about the size of the US state of Kentucky and has a population of 320,000 people.
The terrain encompasses black sand, lava desserts, volcanoes, rolling hills, waterfalls, geysers and fjords.
The weather is expected to go from sunny 70°F (22°C) to a cold, windy 32°F (0°C) with monsoon-like rains. Awesome!
It is summer, so the good news is, we will have almost 24 hours of sunlight.
Our packs will include a mandatory minimum of 14,000 calories of food and required items like rain gear, base layer, sleeping bag, sleeping pad, headlamp, compass, first aid kit, knife, signal mirror and any thing else we choose to bring.  Depending on how and what a competitor packs, backpack's weight will range from 16 lbs. (7 kg) to 32 lbs. (14 kg). Ideally, you want it under 20 lb. (9 kg) Mine is hovering around 25lb (11 kg). Errrr.
(Payge's Pack Contents)
Out of the 278 competitors, there are 52 different countries representing.  63 are from the US and 96 are from Asia.  Included in this mix are some of the world's top Ironman and ultra runners, Everest summiteers and people who have never run a marathon (this would be me).  The average age of competitors is 40.  The ages range from 22 to 68 years young.
Why do it?
I can't speak for everyone else, but this will be the second time I am competing in a self-supported ultra stage race. My first one was the 2012 167-mile Grand to Grand Ultra in North America.  I don't particularly like running, but I like to backpack fast and I love a challenge.   I was no threat to win it and was only competing against myself (and beating check point cut-off times). I wanted to see if I could do it.
The G2G Ultra was the hardest adventure I have ever done.  I finished 40th out of 60.  My feet were trashed with blisters; I lost 4 toenails and twisted my right knee. I swore I would never do another. That thought lasted two weeks and then I signed up for Racing the Planet's 2013 Iceland 250km.  Maybe I am sadistic, like to abuse my body, but in reality, I am addicted to the challenge. You grow from pushing yourself. I like to travel, learn, meet people and see countries outside of their cities.  I want to feel, see, taste, touch and really own the experience.
Racing the Planet 2013 Iceland Race is from August 4 – 10th
To track competitors: Stage Updates
If you would like to send an encouraging email to competitors: Email a Competitor
About Racing the Planet
Since 2002, Racing the Planet (RTP), has pushed athletic boundaries and become the world's leading rough-country, endurance footrace series.  RTP events consist of the 4 Deserts, a series; Gobi Desert in China, the Atacama Desert in Chile, the Sahara Desert in Egypt and Antarctica, and a fifth race that roves to a new location each year. Previous years have seen the roving race in Vietnam, Namibia, Jordan, Australia and Nepal.  This year, Racing the Planet's (RTP), 'roving' self-supported, ultra stage race comes to Iceland and with it, extra challenges to the organization and competitors.