Fitmark: Namaste Yoga Bag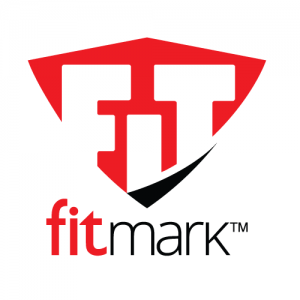 Overview
The Namaste Yoga Bag is a stylish and quality accessory for carrying a mat, clothes, toiletries, and nutrition to and from the gym or yoga studio. It is one of the nicest gym bags around.
Snap Shot
Main Fabrics: Water Repellent 840D Ballistic Nylon, 210D Poly Ripstop
Nylon
Dimensions: 9″H (add 4″ for top) x 19.5″W x 6.5″D
Weight: 1 Lb.
Capacity: 1140 Cubic Inches
Separate kicks and laundry bag
Fit-Hydrate™ pocket with insulated liner for your sports bottle
Fit-All™ Executive-class main compartment for all your needs
Fit-Color™ custom exterior and interior with hand-selected colorway
Fit-Phrase™ lined interior print
Soft to the touch, adjustable carrying strap
Oversized strap-in top buckle to secure your mat or other gym accessories
Crafted with high grade ballistic nylon exterior and fully lined nylon interior
Toiletries pocket with soft-touch classic lining
Colors: Black, Barberry and Blue Jewel
$59.99 Retail Price
Company
Fitmark makes quality fitness bags. CEO Mark A. Samuel founded the company in 2011.
Design Features and Field Functionality
The fabric is durable and water resistant. It does not snag or tear when shoved into a gym locker. The contents inside stayed dry when I got caught in a downpour. I even tested the bag to see if condensation would accumulate internally by leaving the bag in a humid hot yoga studio. The contents stayed dry.
The strap-in buckle for securing a yoga mat is great. You won't have to worry about the mat getting loose.
Internally there is a pocket for a water bottle. This is nice, but rather a challenge to get to if you are walking 8 blocks to a yoga studio and get thirsty. I recommend FitMark add an external pocket for easier access.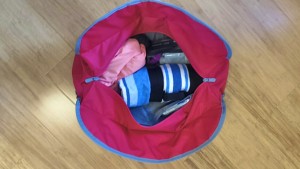 The Laundry/shoe bag is a nice add to separate dirty things.
At 1140 cubic inches, the bag could be wider. You can pack a change of clothes, shoes, toiletries and a towel into the bag, but zippering it will be a challenge.
Aside from a few design enhancements I'd recommend, I love this bag. It is attractive and functional.
Pros:

Beautiful bag
Easy to carry
Easy to clean
Internal net pockets
Laundry bag/shoes
Strap-in buckle for yoga mat
Cons:
Could be wider. Hard to zip up with clothes, shoes and a towel in the bag.
No place to put water bottle on the outside
Recommendations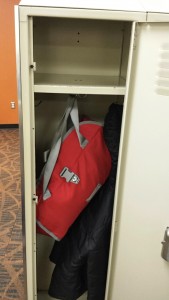 More space – make it wider
Adjustable straps
Add a zipper pull to aid in opening and closing the bag
Add a hoop on the end of bag to make it easier for hanging in a locker
Add another pocket on the outside for a water bottle.