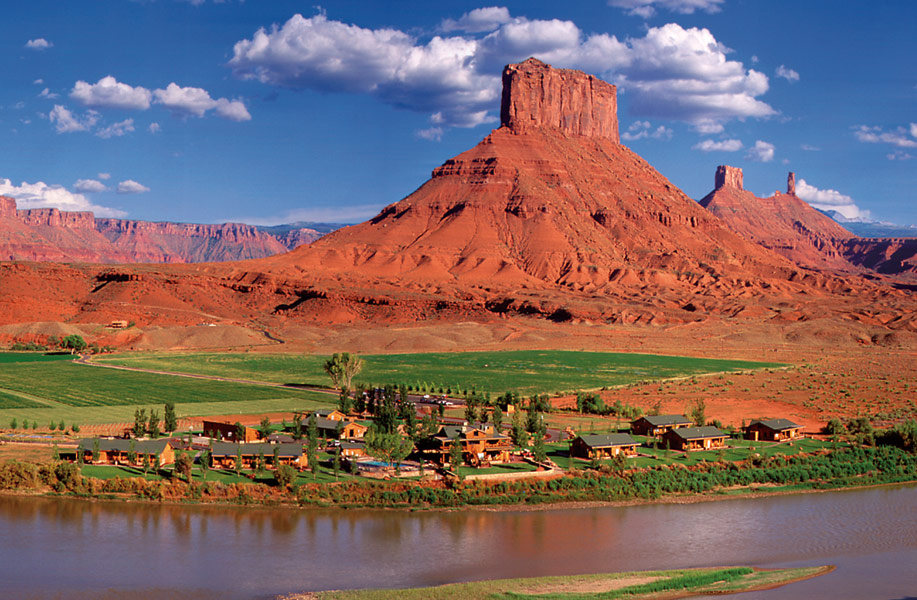 I've traveled all over the world and have slept on mountains, in trees, hammocks, tents, huts, boats and even a raft (true story!). That being said, I have also enjoyed luxury accommodations, sleeping under mosquito nets on plush king-sized beds, in private bungalows at five-star eco-resorts and safari camps.
Unique experiences are what I cherish most.
Everything in life is a balance. If you are bored and crave an exciting adventure – like in the movies – but don't care to 'rough it', here are three, very cool experiences I recommend for the explorer in you!
1. Fantasy Island
Nicaragua – Jicaro Island Ecolodge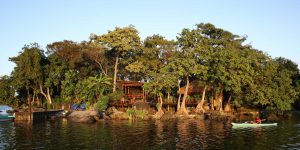 When the small boat docks, it feels like you've arrived on Fantasy Island. Next to the lush palm trees, like Mr. Roarke, the resort host welcomes guests at the pier (minus his sidekick, Tattoo) with a smiling server, who hands you a refreshing, iced, mango tea.
Located on a one acre, private island among the Granada Isletas of Lake Nicaragua, Jicaro Island Ecolodge is something to experience.  Remote, yet only a fifteen-minute boat ride from the colonial town of Granada, with spectacular views of Mombacho Volcano in the distance, the island is an ideal place for peace, quiet and relaxation.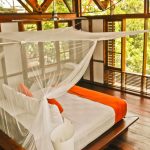 Built in 2010, nine private, two-story 'casitas' (you'll feel like you are in a luxury tree house), gardens, an open restaurant, lounge, pool, massage and yoga area complete the island.  A staff of 14 are friendly and attentive. The food is sourced locally, fresh farm-to-table and truly a five-star culinary experience!
Go off grid and relax. There are no televisions, but don't fret, there is Wifi, should you feel the need to reconnect…but why would you? Jicaro's concierge can arrange excursions, from stand-up paddle boarding, kayaking, zip-lining to yoga and horseback riding. (Jicaro Island Ecolodge,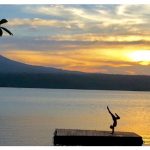 from $440-$620/night for two adults, all-inclusive) 

Tip: Take a day trip and hike to the top of Cerro Negro Volcano and sand board down the hill!
2. Out of Africa
Tanzania – Kirawira Serena Camp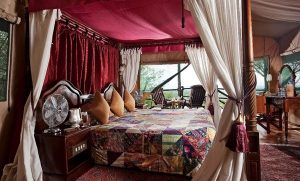 If Robinson Crusoe were stranded in the middle of Africa, the Kirawira Serena Camp is what I picture he would build. Located in the Western Serengeti, 334km from Arusha, the main climbing hub for Mt. Kilimanjaro, the Kirawira is the epitome of a classic 'Out of Africa' luxury safari camp.
The 25 luxury, canvas tents each sit on raised timber platforms with expansive views of the plains and Acacia trees. Victorian bedroom and bathroom furnishings are styled to replicate the elegant hunting camps of such legendary 'white hunters' as Denys Finch Hatton and Baron Bror Blixen.The amenities include a massage area, pool and an open lounge and restaurant that look out over the Serengeti. There you can relax, converse about your adventures over a cocktail, read, play chess or just listen for the lions in the distance. Dinner is a set, five-course meal and it is wonderful!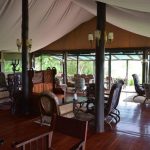 After climbing Mt. Kilimanjaro, we treated ourselves to The Kirawira during our safari. It is a great place to recoup and take in the beauty of Africa. Between the climb, camp, safari and balloon ride, this was one of the most unique and amazing experiences of my life. (The Kirawira Luxury Camp, from $180-$916/night for two adults, all-inclusive)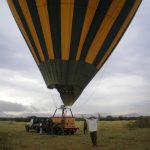 Tip: If you have the chance, arrange to take the hot air balloon safari and bush breakfast.
Do you want have what it takes to climb Mt. Kilimanjaro (19,340 ft), one of the seven summits and highest
mountain on the continent of Africa? Before staying at the Kirawira, add 8-9 days to your trip and go with a high-end outfitter who will take care of all the logistics and provide the very best in food, porters and deluxe tents and/or huts…all you have to do is climb…and be able to handle the altitude! ( Abercrombie & Kent $5,695 & Kensington Tours, $6,920)
3. Any John Wayne Western
USA – The Sorrel River Ranch & Spa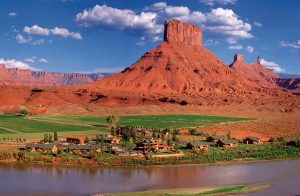 If you've ever wanted to feel like you've walked into a John Wayne movie, go to Moab, UT. It is also the backdrop for HBO's series WestWorld.
An ideal luxury 'base camp' for outdoor enthusiast, The Sorrel River Ranch & Spa is a 160 acre, riverside oasis with a rustic, western vibe. Located just outside the adventure mecca of Moab, UT, Canyonlands and Arches National Parks, it is framed by picturesque red rock cliffs and tabletop mesas. The Sorrel features 55 guest rooms and suites, spa, pool, a working horse ranch and the award winning, farm-to-table River Grill Restaurant.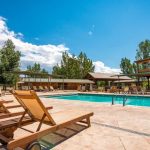 Their Adventure Concierge and/or Moab Adventure Center can arrange all your adventures, from mountain biking, hiking, rock climbing, horseback riding, skydiving to off-road 4×4, base-jumping, and whitewater river rafting. (The Sorrel River Ranch & Spa, from $500-$2,250/night)
Tip: Take an exciting 3 or 4 day whitewater rafting trip on the Colorado River and camp underneath the stars with Western River Expeditions.