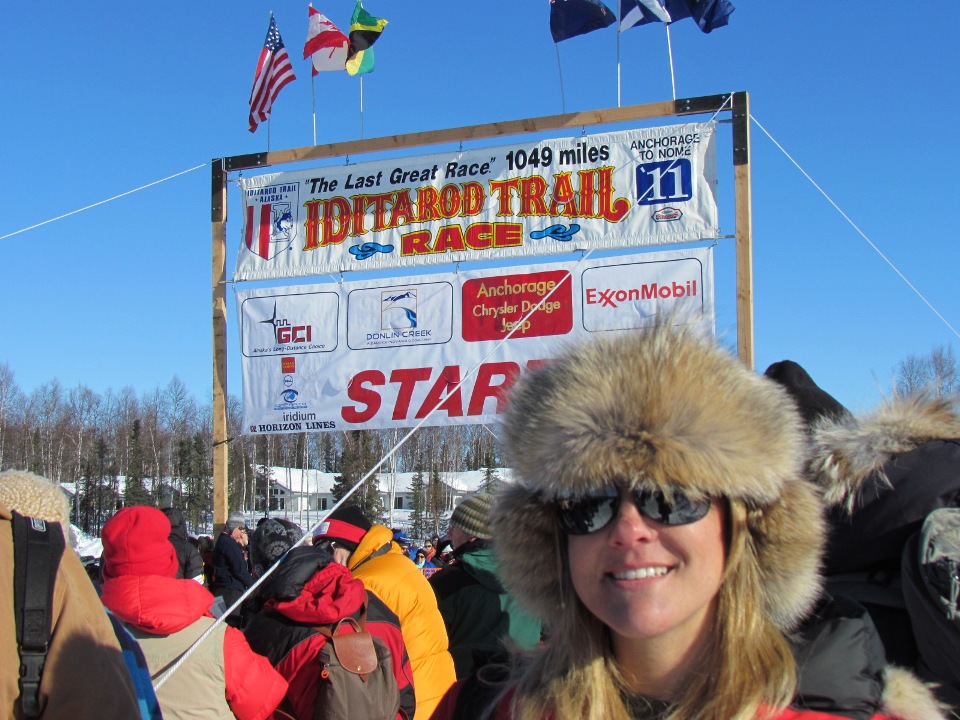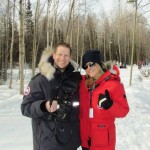 Exciting, Breathtaking, Colorful, Tradition and Pageantry are the words I use to describe attending the 39th Annual Iditarod.  It was my first time at the Super Bowl of sled dog races and truly one of the most amazing things I've EVER witnessed…
I had the pleasure of co-hosting Alaska's most popular adventure show on Alaska HDTV with 5th generation Alaskan, Scott Slone.  I was a wide eyed kid in a candy store and bursting with excitement as I took in my first Iditarod ceremonial start & restart in downtown Anchorage and Willow.
Energy filled the arctic air on 4th avenue in Anchorage at the ceremonial start on Saturday, March 5th.  The streets were lined with thousands of fur hats and parka wearing fans from all over the world including; Belgium, Switzerland, Scotland, South Africa, Texas and Pennsylvania.
Dogs were jumping up and down, excited to run.  Handlers and Mushers worked to put their teams together.  One by one, the announcer broadcast team after team setting them on their way through the streets of Anchorage.  It was a fun, relaxed environment for the mushers.  The next day would be a little different at the actual start in Willow.
The actual start of the 1049 mile race began on a frozen lake in Willow, AK.  Two hours from Anchorage, even more people came to cheer their mushers on.  It was like being in the infield of a NASCAR race.  The fans were snowmobiling, tailgating, cooking up reindeer dogs and caribou steaks.
Like a NASCAR Race, the mushers arrived and gathered in 'the pit' or staging area adjacent to the long trail start. The 'pit' is buzzing with kennel trucks, gear, media, handlers and family.  Mushers are the drivers and their handlers the crew chiefs.  Sleds are their cars and instead of horsepower, they run on DOG POWER!!
Excitement and nerves were in the air this time.  Getting ready to start one of the most grueling endurance races on earth is not something to be taken likely.  Imagine running 18 marathons in sub-zero tempatures, driving the Daytona 500 and THEN doing an Iron Man all within 9-13 days!!! Of the 62 mushers who started in Willow, not all would finish.  Who will make it and who won't?
Tune into Alaska HDTV (http://www.alaskahdtv.com/2011/iditarod-2011-videos/) and see our coverage of the start of the 39th Annual Iditarod and interviewers with 4X champ and cancer survivor, Lance Mackey, Jamaican Musher Newton Marshall and Rookie Jody Bailey.   For actual race results go to www.iditarod.com.