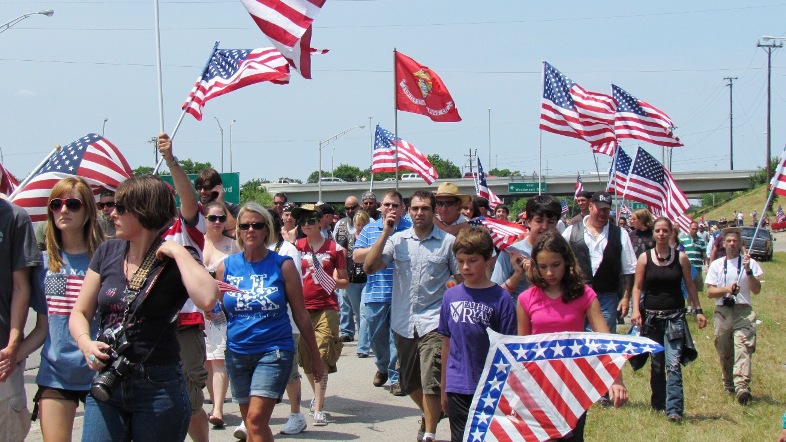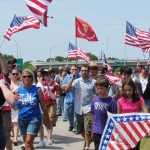 On June 13, 2011, Marine Sergeant Kevin B. Baldruf funeral was held at Woodmont Hills Church in Nashville, Tennessee. Kevin died on May 12, 2011 at the age of 27 while supporting combat operations in Afghanistan. He leaves behind a wife, Amy, and two daughters, ages 3 and 5. He will be buried in Arlington National Cemetery.
His funeral gained nationwide media attention when the deranged Westboro Baptist Church announced plans to disrupt the funeral with one of their anti-gay protest. Big mistake!
Within days of a very well organized social media campaign led by musician Kevin Montgomery, thousands of strangers, all patriots and supporters, came out to shield Kevin's family and friends from these protesters.
In conjunction with the Clay family and owners of Nashville MMA (Mixed Martial Arts), we came out to support the supporters and document their efforts. Nashville MMA handed out ice water and donated their air conditioned tour bus giving  supporters a cool place to rest from the 90F heat.  The MMA training facilities manager, Tim Clay, coordinated the efforts with the blessing of his brother, and primary owner of Nashville MMA, Ed Clay.  A close family, their parents came on board immediately.  Regina and Tim Clay Sr., actually met while both serving in the Army, she as a nurse and he as an ambulance driver. They married 7 weeks after meeting and will celebrate their 39th anniversary this year.
We met some amazing people and a LOT of bikers.  According to Army Vietnam Vet and biker, Sid "Skip" Spencer, a 1,000 motorcyclist  from different groups and chapters were in attendance including; The Outlaws, Bikers for Christ, New Attitudes, Keltics, Rough Riders, US Military MC, Leathernecks, Vietnam Vets, Blue Knights and Tribe of Judah.
When asked if anyone had anything to say to Kevin's family, Rough Neck biker Terry Corn summed up the common theme:"We appreciate your son's ultimate sacrifice and so deeply sorry for your loss.  It is an honor to be here and we support you."
For Biker Gloria Reece, who is also battling MS, this was the 2nd day braving the heat in her ongoing support of Kevin's family.  She along with 150 other motorcyclist went to Smyrna Airfield on Saturday and escorted the casket to the Nashville funeral home.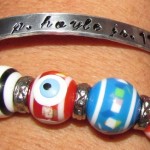 Army Vet and widow Susan Hoyle came out to volunteer for the Patriot Guard Riders.  Her husband, Sgt 1st Class Malone Hoyle Jr. , died in Afghanistan less than a year ago, one day from what would have been his 27 year service anniversary and only 5 days from retirement.  Wearing his dog tags, she tears up talking about him and the combined five children they have together.   She also wears on her wrist two important items.  One, an Iraqi friendship beaded bracelet,  given to her husband from a local Iraqi on one of his tours and a silver commemorative bracelet engraved with her husband's name, Malone Hoyle Jr., and dates of importance.  Overall, Susan felt she needed to be here, that he would want her here, to support her fellow widows, widowers, service men and women.
In the end, only three Westboro Baptist protesters arrived.  Due to permits and ordinances, they had to remain 500 feet away from the church property.  They weren't there long though.  They fled in a cab before the funeral even started. They would have driven away in their own cars, but mysteriously, their car tires had gone flat;-)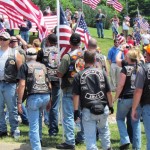 Additional pictures:
http://www.facebook.com/media/set/?set=a.229881737023352.71461.151565961521597&l=1d6c6a2728Watch Full Movie Online Streaming Online and Download