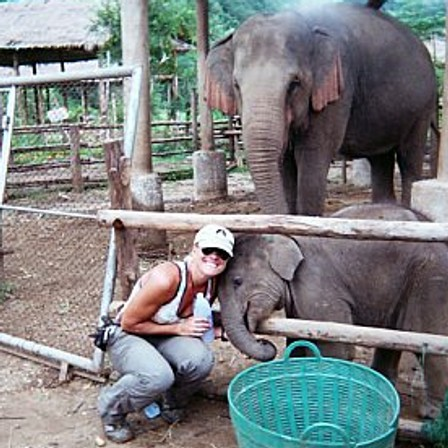 Trip Report
Thailand: Volunteering – Elephant Nature Park
Get close and personal when volunteering at Elephant Nature Park in the Chiang Mai province of Northern Thailand. You will prepare the elephants food, feed them, and wade in the river with the gentle giants to scrub their hides while they bathe.
The ENP is 60 miles north of the city of Chiang Mai. It is in a green valley oasis, with a river running through it, where elephants roam free. It is a sanctuary for formally abused elephants who were enslaved in the tourist and/or lumbar industries.
When I was there, they had 33 elephants, including 3 babies. Volunteers sleep in a hut on stilts, have your own bed with a mosquito net and enjoy the sounds of elephants snoring (yes, some elephants do snore), in the surrounding fields. A two story communal hut is centrally located. There a kitchen and work area is found. Upstairs, the eating room, where in traditional Thai style, you sit on cushions around a table.
Along with 30 other volunteers from around the world, you'll not only do chores to take care of the elephants, but help maintain the property; built fences, huts and prepare meals. It is a heart-warming experience. If you want to volunteer with elephants, this is the place to do it!